Cate Foster gets on her bike and enjoys the trails of Woodhill Forest - and the refreshment waiting at the end of her journey.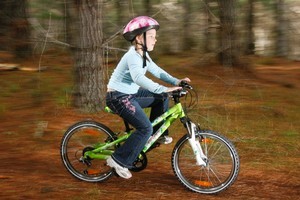 Mountain biking in Woodhill Forest is a big ask for someone who hasn't been on a bike in more years than I care to think about. But being guided and watched over by an expert helped.
My buddy Ken is good at lots of things, and mountain biking is one of them, so I felt pretty confident under his eye. Being a native of Beijing, his girlfriend Kelly is pretty familiar with bikes too, so although she'd never been mountain biking before, she wasn't in the least bit fazed.
After a lesson for Kelly and me from Tim Hunter, the Woodhill Cycle Park Supervisor - mainly about how to cope with the 24 gears - we set off towards the novice trail at the top of the hill. I was pretty pleased with myself as I didn't fall off straight away and, despite struggling with the mechanics of changing so many gears, made it to the top, where the trail started without incident. Only my legs were complaining, so I kept muttering the instruction from my fitness DVD to "get past the burn".
On the trail under a canopy of pines, the glory of the surroundings revealed itself. Tall trees, reminiscent of the forests from a Grimm's fairytale book, filtered the light at slanting angles, and dust motes kicked up from the rust-coloured needles.
I dodged tree roots on the trail and the trees that inexplicably seemed to lurch out to catch me, and doggedly ploughed on.
Ken and Kelly sailed along with ease, as did everyone else, from 7-year-olds to fit-looking dads.
As a novice I found the knots of roots on the trails a bit alarming and had to concentrate. I also found using the multi-gears a bit counter-intuitive, but that could just be my mechanical ineptitude. But by the end of the 6km circuit that forms the Nature Valley Trail I felt much more confident. Expert no, but almost capable.
Back in the carpark, I was delighted to have survived, burning muscles notwithstanding, and was looking forward to something cool and reviving.
Soljans Estate Winery and Cafe down the road proved to be the perfect place to repair my inner cool.
Sue Walker from the cellar welcomed us with a tasting of a variety of Soljans wines. Being the driver I stuck to my favourites, rose and pinot noir, while Kelly and Ken tried all nine wines on offer. Sue had so much knowledge and delivered it with such charm that I know where I'll be stocking up on wine when next passing by.
The Soljans cafe was a delight. The surroundings, service and food and wine were everything a hungry trio of bike riders could desire. Portions were more than generous and Kelly struggled to finish her baked vegetable filo parcels. There was no way I was going to give up on my slow-roasted pork belly with the crackling just right, and Ken's baked corn-fed chicken breast was something I'll come back for.
Information
Woodhill Mountain Bike Park, Restall Rd, Woodhill. 0272 780 949.
Soljans Estate Winery and Cafe, 366 SH16, Kumeu. 09 412 5858.
Upcoming events: Woodhill Dirt Jump Open, May 21-22, 12pm start, adults $5, children $2.