Brett Atkinson laps up the laid-back vibes and shabby chic charms of what was once known as Portuguese East Africa.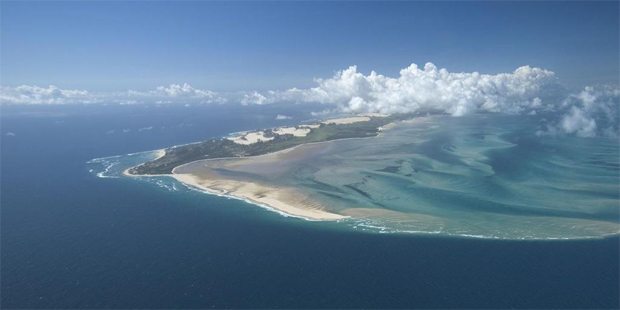 We'd been warned about keeping safe in Mozambique and spying the country's AK-47-embellished flag only amplified an edgy frisson of excitement upon landing at Maputo airport.
Two days later in the rough and ready Mozambican capital, an impassioned mob is now surging towards us along a sandy expanse of the Indian Ocean. With combative opponents in pursuit, muscular adolescent males are hell-bent on a singular outcome.
A quick glance over my shoulder reveals we've got nowhere to escape. An armada of chilly bins full of ice-cold Laurentina beer, and alfresco stalls selling grilled prawns conspire to make retreat an impossible option.
Fortunately long-neglected skills honed on Auckland's sports fields kick in, and I trap the scuffed soccer ball neatly and deliver a smooth pass back to the approaching horde that's been drifting up and down the beach like a shape-shifting school of fish.
Welcome to just another Sunday afternoon in Maputo.
The ad hoc game of football - with an estimated 50 players per side - is the only obvious sign of exertion along the arcing stretch of sand that's the favourite weekend getaway for the easygoing residents of the capital of Mozambique.
There are definitely parts of the city that can be dangerous, especially after dark, but Sunday afternoon on the Costa del Sol isn't one of them. Melancholy Portuguese fado music and vibrant Afro-Cuban beats collide to provide a compelling soundtrack as we tuck into spicy peri peri chicken from a beachside gazebo.
Around us, multiple generations of local families hone the essential Mozambican Sunday skillset of doing not a lot - very, very slowly.
The Costa del Sol is an early stop on a leisurely tour of Maputo, and our mode of transport is a big hit with the locals. Unsurprisingly, a spearmint-green 1950s Dodge sedan has a unique ability to turn heads, especially when your slightly unhinged driver has the disconcerting habit of taking both hands off the wheel to wave at the adjacent beachy throng.
Back in town, Joao is slightly more responsible, steering the winged retro beast along Maputo's elegantly wasted avenues trimmed with graceful flame trees and past art deco cinemas, cafes and hotels in varying states of repair.
Mozambique's transition from Portuguese colony through Marxist revolution is evident in the capital's unique architectural cocktail. Near the graceful wrought-iron colonial arches of the Mercado Municipal, the 1930s Cafe Continental is an espresso-fuelled confection seemingly transplanted from downtown Lisbon.
Just a lazy stroll from Maputo's Gustav Eiffel-designed railway station, a Soviet realist statue of revolutionary leader Samora Machel gazes upon a 1960s apartment building sheathed in a Mondrian-like mosaic. It's a compelling history lesson; delivered through design, and blanketed by the soft decay of tropical humidity.
Following Joao's languid Sunday drive though Maputo, we journey further north along Mozambique's sweeping coast for what could be one of the planet's great plane rides. After our big plane machinations via Sydney, Johannesburg, and the addictive edginess of the Mozambican capital, the low-level small plane dash across Bazaruto Bay is a stunner.
The broad expanse of turquoise shallows is dotted with gossamer-thin reefs and the colourful sails of fishing dhows.
Behind us, Africa stretches north and south with untouched white sand beaches, and on the near horizon sit the five improbably scenic islands of the Bazaruto Archipelago.
A final wing-wobbling swoop over massive dunes straight from The English Patient reveals the compact private airfield belonging to the Indigo Bay Resort & Spa.
Sitting on the west coast of Ilha de Bazaruto, a slender collection of ever-changing dunes and shallow lakes punctuated by over 150 different species of birds, Indigo Bay has room for 140 guests, but still feels personal and intimate.
It apparently gets busy during the South African holidays, but for our three-night stay we're almost outnumbered by a team barbecuing fresh prawns, squid and lobster on the beach, preparing excellent capirihna cocktails, or accompanying us to nearby offshore reefs for swimming and snorkelling.
Private bungalows are ensconced in mature vegetation, and the singular view from our personal plunge pool is of cobalt skies segueing to the African mainland 15km away.
In the 1950s and 1960s the Bazaruto Archipelago attracted jetsetting fishermen attracted by the big game thrills of marlin and sailfish, and a hotel on nearby Ilha Santa Carolina was a honeymoon favourite.
Bob Dylan composed his 1975 song Mozambique - "the sunny sky is aqua blue,and all the couples dancing cheek to cheek" - on the hotel's piano, but our visit 35 years later reveals just the crumbling shell of the art deco hotel and a forlorn wedding chapel.
Plans are in place to restore Ilha Santa Carolina to its former glory, and after a stint on the Survivor: South Africa reality TV series in 2010, the resort is scheduled to reopen in 2012. The hotel's piano is currently at Indigo Bay and will be returned to Santa Carolina.
Ilha de Bazaruto's own history is related to us by our South African guide Pieter as we lazily navigate the island's beaches on horseback.
Before the Portuguese arrived in the 17th century, Arab traders en route from the Middle East to Asia stopped here to source the area's legendary pearls. It's rumoured the pearls of the Queen of Sheba came from around Ilha de Bazaruto.
Today the fish are still jumping, and underwater thrills include some of Africa's best diving and the chance to see the protected population of dugongs that visit the Archipelago's sheltered waters.
Our afternoon's horseriding concludes in a sleepy beach cabana with yet another cold cerveja Laurentina. Apparently the Bazaruto Archipelago was one of the safest places in Mozambique during the civil war from 1977 to 1992. Looking out on the fading late afternoon profile of the African continent across Bazaruto Bay it's easy to see why.
After a few too many years of civil war and Socialist revolution, Mozambique's Portuguese-accented spin on Africa is now firmly back on the radar for adventurous travellers.
Just remember to get your soccer skills up to scratch beforehand.
CHECKLIST
Getting there: South African Airways has regular flights to Maputo from Johannesburg, Cape Town and Durban. LAM-Mozambique Airlines links Maputo to Vilanculos, departure point for flights to Indigo Bay Resort & Spa on Bazaruto Island.
Where to stay: In Maputo stay at Residencial Palmeiras (carlos.pereira@tvcabo.co.mz, 948 v Patrice Lumumba), a family-owned bed and breakfast in a central, but quiet, Maputo neighourhood.
Further information: To rent a habana vintage American sedan, enquire at reception at Maputo's Hotel Cardoso.
Follow the link for more information on Indigo Bay Resort & Spa.
Brett Atkinson was assisted with accommodation by Rani Resorts.