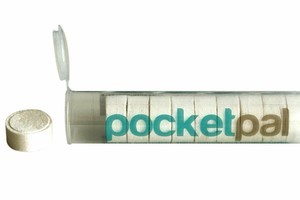 Travellers short on space, but keen on the comforts of home, might like to slip the Pocket Pal tube of biodegradable washcloths into their toilet bag or backpack.
Each tube contains 10 peppermint-sized rounds made of pulp. Add a few drops of water and you'll end up holding what feels like a little cotton ball. This easily unfurls into a gauze-like rectangular cloth that is softer on the face than the average tissue. The size is a bit on the small side for an all over wipe down, but, if needs must, it will do the job.
While you could dry the fragrance-free cloth for re-use, it isn't robust enough for repeated washes, being designed for easy and environmentally friendly disposal. The eco-conscious will note the carbon-mile count from its manufacture in China and it is also white, so has presumably been bleached, but the flannel fans can think of the water they'll save by not having to lug about and launder a cotton cloth.
Ideal for glampers, who need all their creature comforts to endure the great outdoors. Pocket Pal costs $4.99 a pack and is available from selected pharmacies. Phone 0800 842 725 for stockists.