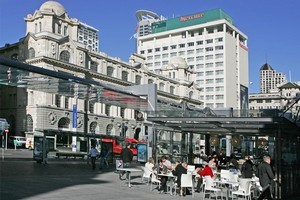 Cruise ships have been flocking to Auckland in recent months, reviving calls for the city to build a flash new terminal, preferably capable of catering for two ships at the same time.
I have no great problem with that ... but I can't help remembering that of all the cruises I've enjoyed on rivers and seas all round the world only one stopped at a proper terminal ... and that was at Southampton 40-odd years ago. Everywhere else I've just walked on to a wharf and boarded a bus or wandered into town.
Just to check, I asked two colleagues who've recently done Pacific cruises. One reported that of the five ports she visited the only place with a proper terminal was Sydney. The other also called at five ports and "the only place there was an actual terminal was Noumea, and that's very basic, just a two-storey building where you can go to the toilet and listen to a welcoming band."
All of which rather begs the question: do we really need a flash terminal, or would a simple structure offering easy access to buses and the city be perfectly adequate?
In any case, I'd have thought a far bigger problem for Auckland in establishing itself as a popular cruise destination is Queen St.
I walk lower Queen St at least twice a day, I frequently see clusters of cruise ship passengers standing around looking ... puzzled, and I sympathise with their plight. Because the main street of our main city is a dull, dreary, unwelcoming place.
It looks grey, boring and filled with unwelcoming herds of red-light jumping vehicles, the footpaths are dirty, the architecture uninspired, the shops mostly irrelevant and - probably one of the aspects that particularly puzzles visitors - the only people hanging out seem to be Asian language students presumably too busy smoking and tweeting to notice how scruffy it is.
If the aim is to make our city more appealing, then rather than spending millions on a cruise terminal which would only be used about a quarter of the time anyway, we'd be better off doing something about our shoddy downtown area.
And we all know, because it's been said many times, that the best way to do that is to turn the street into a pedestrian mall and allow it to fill with seats, flowers, trees, buskers, foodstalls, pavement cafes and public artwork.
Over the years I've heard all the reasons why it can't be done and they haven't been convincing. Other cities from Sydney to Santiago have managed to turn uninspiring roads into vibrant malls full of interesting, flourishing shops. So can we.
To build a new cruise terminal on its own would merely be to provide a fancy entrance into an unfriendly wasteland. First we need to make the wasteland blossom.