Ever wanted to create your own perfume? Head to Paris, says P.K. Stowers.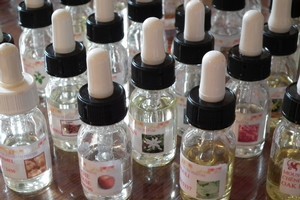 When trying to decide what your favourite smell is, there is nothing like sitting at a table with more than a 100 small bottles of scent to hone your nasal skills.
That was the scene at Le Studio du Parfum in Paris, where guests can make their own personalised cologne or perfume.
Heading the class is Marina Jung-Allegret, a perfumer with nearly 20 years' experience, a tutor at the Perfumery School of Versailles and consultant to companies such as Givenchy, Christian Dior and L'Oreal.
The studio is located in the Passy district on the Paris Right Bank, away from the tourist routes yet less than a couple of kilometres from the Eiffel Tower. Our classroom is an elegant sitting room overlooking a large stonewalled Parisian garden courtyard.
"Perfume creation is like every art," says Jung-Allegret.
"You are not inspired every morning. You sweat lots and just sometimes you have a little divine inspiration."
There are seven of us in today's class and everyone sits around a large wooden table, upon which lie hundreds of those tiny bottles. The pressure is on because all today's participants have promised to wear their creation to Paris' famed Moulin Rouge cabaret that evening.
Three women launch themselves into the bottles of scent without hesitation, comparing smells and adding drops into their test pots. But divine inspiration seems to be less forthcoming for the four men in the group.
"There is no way I'd ever wear anything containing that," says one, gingerly replacing a bottle labelled "Lily of the Valley" back on the table and picking up "Caramel".
Jung-Allegret says while only 10 to 20 per cent of her clients are men, the ones who do visit usually know precisely what they want, create their eau de cologne and save the recipe to re-order bottles.
Some of the individual scents are made up from a single essential oil; others are a compound with up to 20 different ingredients mixed to evoke a certain fragrance, such as "marine" or "citrus". These compounds, or bases, act as fragrant building blocks and allow perfumers to create a scent relatively quickly.
"When you work at something as long as I have, you have your own personal preferences, but sometimes people will mix two things together that I would never do and I may get a pleasant surprise," she says.
"Recently I had a mother with her teenage daughter, and the mother started by saying, 'My daughter wants something fresh and light' ... at the end the young girl went away with an Oriental, sweet-scented sandalwood perfume that was far more daring and mature than I would have expected."
The choice of scents is bewildering and picking the combination that best represents you is especially challenging.
Plants - barks, leaves, fruits and flowers - are by far the largest source of natural fragrances, but some are also produced from animal products, lichens and seaweeds.
"Anyone know what 'opoponax' is?" someone asks. "It smells a bit like earwax."
It turns out that opoponax is a sweet incense gum from Somalia but the content of the bottle is a synthetic representation. Jung-Allegret says the development of synthetic products has greatly improved the ingredients available for the perfumer.
Even the sought-after ambergris - a fatty protein vomited up by sperm whales and used for stabilising and enhancing perfumes - is now reproduced synthetically.
"Step by step we are losing ingredients like those, because it comes from an animal and because you don't find it anymore, so the price keeps increasing," she says.
"You can synthesise ambergris and we have good products from it, close to natural, and we are doing better and better."
At the end of the class, a quick comparison of our creations presents an array of floral and citrus fragrances from the women, including one green tea perfume that impresses Jung-Allegret.
Cologne from the men, on the other hand, displays a certain sameness because of their eventual discovery of more masculine scents such as cedar and oak moss. The inclusion of peach into one of them lifts it above the others - but isn't the most daring made today.
One of the men decided it was easier to create a perfume for his fiance and concentrated on scents such as jasmine, rose, peony and red pepper.
Reminded of the promise to wear his own creation out that night, he looks momentarily disheartened but says: "As long as you can keep your hands off me tonight we'll be okay."
CHECKLIST
Getting there: Low-cost airline AirAsia.com now flies from Christchurch to Paris, via Kuala Lumpur, and premium economy passengers can enjoy lie-flat beds. One-way flights average around $969.
Further information: For more about touring France visit Tempo Holidays.
P.K. Stowers travelled to Paris with assistance from AirAsia and Tempo Holidays.