The autumn school holidays have started, and Easter is next weekend - make the most of the last of the warm weather by going somewhere you've never been.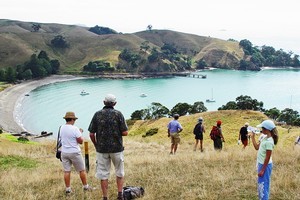 Mimiwhangata Coastal Park, Northland
Half way between Whangarei and Paihia, this idyllic park is set on the Kaituna peninsula where you can camp amid pohutukawa trees beside a white sandy beach. Native bush on hills behind the beach contain walking tracks where you might see native wood pigeons, kaka and colourful eastern rosellas from Australia. At night you'll hear the calls of morepork and kiwi.
Drive time from Auckland: 3.5 hours
Campsite: DOC manages 35 tent sites at Waikahoa Bay, right on the beach among the pohutukawa trees. Tap water, toilets and cold showers. Adults $8 per night, children (5-17) $5 per night. To book, call the park's DOC ranger, ph (09) 433 6554.
Port Jackson, Recreation Reserve, Coromandel
This hilltop reserve beckons you as you approach it along a gravel road, 30km north of Colville at the top of the Coromandel Peninsula. Camp beside a sweeping bay, and take the Muriwai walk from the other side of the estuary.
It will take you along clifftops past two pa sites, with stunning views across the Hauraki Gulf to Great Barrier Island.
Drive time from Auckland: 3 hours
DOC Campsite: 130 tent sites, right beside a white sand beach. Tap water, toilets, cold showers, barbecue shelter. Adults $9.20 per night; children (5-17) $2 per night. To book, ph (07) 866 6932.
Kaimai Mamaku Forest Park, Bay of Plenty
This 37,000ha native reserve runs south from the Karangahake Gorge between Paeroa and Waihi almost to Rotorua. Near the gorge is the peaceful Dickey Flat campsite - one of the rare campgrounds where dogs are welcome. Set up your tent beside the Waitawheta River, then take the track which leads to the Karangahake Gorge where you can explore remnants of the area's gold-mining history.
The Karangahake Gorge Historic Walkway partly follows the old railway line between Paeroa and Waihi (closed in 1979), with the remainder of the track following the banks of the Ohinemuri River.
Drive time from Auckland: 2.5 hours
DOC campsite: 35 sites beside the river. Water from stream, toilets. Adults $6 per night, children (5-17) $2 per night. To book, ph (07) 578 7677.
Daytrippers
Rangitoto Island
The largest and youngest of the 50 or so volcanic cones and craters in Auckland, Rangitoto is only about 600 years old. Its landscape is eerily different from the mainland, comprising bare lava fields, from which grows the world's largest pohutukawa forest and more than 250 other native trees and plants. Take the one-hour walk or ride the all-terrain vehicle to the top for beautiful views back to Auckland, or wander along the coastal tracks past historic baches, to bays ideal for picnics and swimming.
Getting there: Ferries depart from downtown Auckland or Half Moon Bay on the 25-minute trip. Return fare for a family of five from downtown is $78, or $55.80 from Half Moon Bay.
Kawau Island
Kawau Island was the site of one of New Zealand's earliest mining ventures in the 1840s, and you can still see remnants of the copper mine there today. New Zealand Governor, Sir George Grey, bought the island in 1862. He remodelled and enlarged the mine superintendent's house, now known as Mansion House. Sir George also planted hundreds of species of plants and imported exotic animals including wallabies, kookaburras, weka, peacocks, zebras and monkeys. The zebras and monkeys have gone but the wallabies, weka and peacocks remain.
From Mansion House, you can take the two-hour return walk to the copper mine, or one of the shorter tracks. Return for a picnic in the gardens and a swim in the bay. The Mansion House Cafe will be open through Easter.
Getting there: A ferry departs from Sandspit, about an hour north of Auckland, departing at 10.30am every day over Easter, returning 2pm and 4.30pm. Adults $50, children (5-11) $26, family $150. Ph Reubens Cruises 0800 111 666.
Motutapu Island
Rangitoto's older but lesser known neighbour was occupied by Maori for hundreds of years, so is rich with hundreds of archaeological sites as well as relics of the island's more recent European history. There's a 40-minute walk through regenerating forest to a group of former military sites, or a two-hour hike through farmland up to a trig station, then past the site of the island's original homestead at Emu Bay. Settle down at Home Bay for a picnic with a view back to the city. At low tide you can walk across the causeway to Rangitoto.
Getting there: Fullers runs a ferry service from downtown to Home Bay on selected Sundays, including tomorrow, April 17, and again on Sunday, May 1, departing 9.15am, returning 4.30pm. Check www.fullers.co.nz for subsequent dates. Adults $31.50, children $15.80.
* For more ideas and information visit the DOC website.