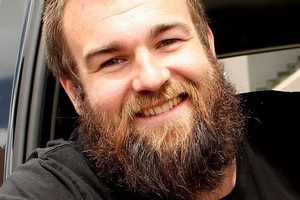 Do you travel light or heavy?
I travel as light as I can. I figure out exactly what I need and whatever I don't need stays behind (of course this depends on my idea of need at the time).
Cattle or first class?
Cattle. No matter what flight it is, it's only ever a matter of hours and people need to suck it up. And I'm 6ft 2in and 110kg.
Are you a planner or last minute packer?
As last minute as they come. In fact as I'm writing this I'm looking at the clock thinking, I'm getting picked up in 20 minutes for a weekend away and I haven't packed yet.
Favourite or most exciting airport to land in?
Dubai was a pretty crazy experience. Imagine the biggest airport you can and it's even bigger than that.
Best packing tip?
Roll, don't fold.
Most memorable trip?
My most memorable trip was one to Africa with the Hope Foundation.
We spent three weeks travelling around Kenya and Tanzania helping in orphanages, schools and churches. It was an incredible experience which I'm so grateful for. The people were so beautiful and generous.
Ben Harper is TomTom's new Voice of New Zealand having been chosen from thousand hopeful Kiwis to become the voice of all TomTom GPS units.