The dreams of two men called James meld to create a gift for the public. Liz Light reports.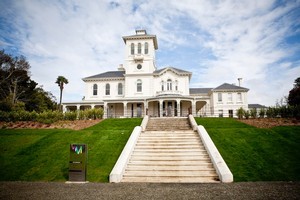 Great things are often created by obsessive people and last year, when the TSB Bank Wallace Arts Centre opened in Pah House in Hillsborough, the passions of two men coalesced.
The stunning 130-year-old hilltop mansion built by James Williamson, became the home of James Wallace's extensive collection of New Zealand art. It is charming synchronicity that both men are called James and that their family names are similar.
Pah House, 1877, was designed by Auckland's foremost architect, Edward Mahoney, for Auckland businessman James Williamson as his gentleman's residence.
The homestead was the largest in Auckland province and though it's essentially two-storied, the central tower makes it higher and grander than other Victorian mansions. It has a wide, wrap-around veranda on three sides that, today, hosts the tables of Pah Cafe. The house sits on a hilltop overlooking Manukau Harbour, and has extensive gardens, now part of Monte Cecilia Park, with a collection of large and rare exotic trees.
After Williamson's death, the homestead was acquired by Sisters of Mercy, and has served as a novitiate house, orphanage, boarding school and emergency housing for new immigrants. Auckland Council purchased it in 2002. Auckland Council upgraded the exterior as part of its commitment to preserving heritage buildings and former mayor John Banks, during his second term, had the bright idea of using it as base for the Wallace Arts Trust, which had been camping in numerous venues around Auckland.
In 2009, Auckland Council, helped by funding from TSB Bank, completed restoration of the interior. Pah House became the permanent home for the Wallace Arts Trust, opening as a gallery and arts centre in August 2010.
James Wallace brought his first piece of art, a Toss Woolaston drawing, in 1964. He had returned from a long overseas trip where his interest in art was fired up by visiting as many European galleries as he could.
He worked in, and then inherited, a family-owned beef-rendering company in Waikato and managed it with skill. Over the years, as his financial resources grew, so did his art collection. Wallace's aim is to assist emerging artists through both patronage (buying their work) and promotion at exhibitions. He has done this for 45 years, has amassed more 5000 pieces and his collection is effectively a diary recording what was happening in New Zealand art, each year, over time. He never sells any of the work and the collection is valued at more than $50 million. In 1992, Wallace transferred his private collection to a Charitable Trust and he continues to add to it, visiting galleries all over New Zealand, and often commissioning work from artists he considers promising. Wallace is 75 so let's hope he stays in good health, buying art, for a long time yet.
The mansion is large, big enough for nine galleries, plus the stairwell and many hallways and lobbies are terrific show spaces. Strolling through you see work of artists whose names are well-known.
Philip Clairmont, Gretchen Albrecht, Ralph Hotere, Rita Angus, Bill Hammond, Colin McCahon, Frances Hodgkins, Len Castle and Terry Stringer; the list goes on with 1000 artists in the collection.
Every six weeks the display in one of the galleries is changed to give stored work an airing. Besides the art collection it is enticing; it's free, the house is magnificent, the grounds and park are gorgeous and the cafe sells great food.
The obsession of one man and the dream of another have evolved to become a superb destination and a vast historic compilation of New Zealand art. The TSB Bank Arts Centre at Pah House is a priceless gift to the people.
FACT FILE
The TSB Wallace Arts Centre, Pah Homestead, 72 Hillsborough Rd, Auckland. Ph (09) 639 2010.