Political satire on floats is probably not what you'd expect in this town on the Tuscan coast, writes John Watson.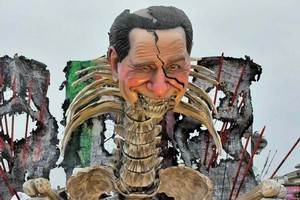 Strolling down the idyllic, beachside main street of a small, unassuming city on Italy's Tuscan coast just about the last thing you'd expect to see rolling towards you is an 18m-high Barack Obama. Even less expected would be an equally large demonic-looking Silvio Berlusconi following close behind.
Viareggio, with a population of only 64,000, the majority of whom live quiet, simple lives employed in boat building or fishing, may seem an unlikely venue for the largest and arguably most satirical and politically charged floats in the world.
Yet it is the city's tradition of boat building plus its centuries of theatrics which have resulted in its carnival becoming one of the most famous and spectacular in Europe.
This year's carnival saw over one million attend to see the 17 floats which weighed up to 40 tonnes, reached heights of 18m and dealt with a huge range of political and social themes.
The highlights for many were the floats caricaturing famous people and politicians, a long-running tradition, and the crowds certainly weren't disappointed this year.
Italian president Silvio Berlusconi was caricatured on a float named "ReXpubblica". His face, mounted on the skeleton of a dinosaur, parted in the middle to show a skull behind it and the entire float was covered in newspaper clippings. Its message was pretty clear.
"It symbolises the death of the old," said president of the Carnival Alessandro Santini.
"The people of Italy are tired of Berlusconi and his scandals and we want a new chapter in our politics now."
Last year the Prime Minister was portrayed as Edward Scissorhands, chopping spending on education ad other social services.
The President of the United States also made an appearance in the form of a float named "Barack-adabra".
The towering Obama was wearing a magician's outfit complete with a magic stick and a "yes we can" badge on his jacket.
On top of his hat was a man dressed as Osama Bin Laden firing at crowds with a mock AK-47, while on the float were doves dripping with oil and carrying nukes.
"It doesn't carry any malice but rather celebrates his power and the fact he's expected to solve all the problems we have in the world," said Santini.
Other floats dealt with issues such as water privatisation, belief in aliens, homosexuality and African oil, the latter portraying the EU and the US as golden lions devouring poor and sick Africans. Some floats carried as many as 300 people who were all in costume and all part of the theatrics and messages.
This year's carnival also celebrated the 150th anniversary of the unification of Italy with paper-mache caricatures of two of Italy's most famous historical figures, Giuseppe Garibaldi and Vittorio Emanuele, meeting on horseback to shake hands.
For the people of Viareggio the carnival is a strong instrument of cultural identity. "They live it all year round," said Santini. "The entire community participates in making costumes and the floats; even schoolchildren compete in a contest called future float designer. Every city has a carnival but in Viareggio we have the biggest and highest floats in the world."
The floats draw their origins from town's long tradition of carpenters who built sailing ships and based the design of the floats on these ships' hulls, handing this knowledge down to sons who further refined them with new technologies and materials. Although it was officially recognised in 1873, it originated from preceding traditional customs and folklore of satirical theatrics and caricatures.
In 1931, Burlamacco, a red and white coloured clown, became the mascot of the carnival and he is ubiquitous in the city, appearing on the dashboards of cars, hanging on key rings and painted on buildings.
The locals' pride in their carnival is also evident by the lack of people in casual dress during the carnival-period. From February 20 to March 12 it seems everyone in Viareggio, despite age, is in costume.
With the last of the four parades and incessant street parties now over, the crowds will leave and the small city will clean up and enjoy a small break before starting to plan next year's carnival.
CHECKLIST
Getting there: Viareggio is about 30min by car or 20min by train from Pisa Airport - a good excuse to see its famous leaning tower - and once in Viareggio everything is within walking distance.
Carnival: The float parades take place every Sunday for a month before Lent, which falls at the end of February or the beginning of March.
Where to stay: The city has many hotels as it is also a popular beach resort during the summer. These range from the two-star Hotel Stella De Mare for €40 per night to the five-star Grand Hotel Principe di Piemonte for €179. You can find these hotels and others at venere.com.
Further information: See viareggio.ilcarnevale.com, goitaly.about.com or world66.com.
John Watson paid his own way to Viareggio.