The top of Northern Ireland inspires a bit of blarney, writes Graham Reid.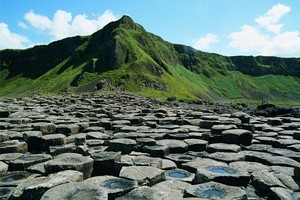 The Giant's Causeway being in Ireland - at the top of Northern Ireland in fact - there is of course a story about it.
According to geologists the impressive rock formation, a huge area seemingly composed of lots of perfectly square, rectangular or hexagonal flagstones, was created over 55 million years ago when cooling lava contracted and compressed, and the rock split along the angles we now see.
But the more entertaining Irish version is that the giant Finn MacCool built these stepping stones so he could cross the water to slug it out with his Scottish rival Benandonner. It's tale that gains impact by there being similar rock formations on the Scottish island of Staffa.
MacCool crosses, sees the sleeping Benandonner and, scared by his size, flees home where his wife disguises him as a baby. When Benandonner arrives in pursuit he's shocked at the sight of the huge bairn and can only imagine how enormous its father must be.
As he in turn hot-foots it home, Benandonner destroys the causeway, leaving the partial pathway we see today.
It's a grand yarn - all cowardice and trickery by accident - but it's easy to imagine some great guiding handing had constructed these geometric stones.
There is a visitor centre above the causeway and buses can take you down to the coast some 15 minutes walk away.
But gazing at the wall of tightly packed laval columns known - for obvious reasons as The Organ - or standing on these geometric stones, one weak point in the MacCool story might occur to you: the stones are just the right size for human feet to step across.
It might seem Irish logic to say this, but maybe giants weren't that big in those days?
CHECKLIST
Getting there: Cathay Pacific offers daily flights from Auckland to London via Hong Kong.
Ryanair flights to Belfast depart from Stansted.
Further information: You can get general information at visitbritain.co.nz and discoverireland.co.nz.
Graham Reid travelled to Britain and Northern Ireland courtesy of Cathay Pacific and discoverireland.co.nz.