A mini-break to Great Barrier Island can combine luxury, solitude and adventure - as well as breathtaking scenery.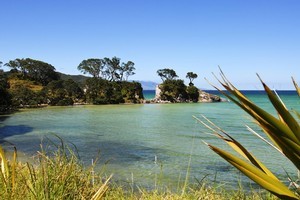 When I take my sweetheart away for a break I want to know we'll be stimulated by otherness, awed and alone in places of natural splendour, and that we'll be pampered rotten. We should eat fresh delicacies, and be far enough from ordinary life that we forget our to-do lists completely. Must we battle through customs and airport queues for this?
Despite its fabled beauty and isolation, I hadn't considered Great Barrier Island as a mini-break, until I heard about the five-star luxury and four-course dinners at Earthsong Lodge. A new paradigm was born: far away wildness by day, luxury by night, no passport required.
Boarding the passenger ferry downtown was effortless. As Waiheke slipped behind us, seabirds, dolphins and wave patterns worked their magic. By the time we cruised into the fjords near Port Fitzroy two hours later, we were imagining dragons in the Broken Islands' craggy forms. We'd unwound.
Here was an eyeful of rugged, bush-clad mountains, unbroken by human traces.
Tangible isolation. Our rental car waited on the jetty with its key barely hidden. Soon we were twisting through subtropical lushness on narrow grass-edged roads. Few drivers passed us, but when they did they waved. Even the police.
Before crossing the spine of the island, we dropped in to the Outdoor Pursuits Centre at Karaka Bay. Without fuss, they set us up in an easy double kayak. Then we were alone, sliding through crystalline waters in rhythmic silence, watching for rays. We stripped off and swam at the first sandy bay like innocent children. At Green Island the snorkelling was brilliant:drop-offs teemed with snapper, puffers, and formation swimming shoals.
At the pontoon, we were unhurried enough to listen as some locals embarked on their life stories - how each had come to live on Great Barrier, and all that entails. And then we were gifted a juicy smoked kahawai and a crayfish with antennae still waving. In this elemental, raw abundance, the Viaduct felt a million miles away.
Crossing the central ridge of the island revealed a panorama of sweeping eastern beaches. After passing some dilapidated homesteads we stopped at Okiwi Passion organic farm. Owner Caity Endt had left Auckland to create this mini Eden using chickens and overseas Woofers (Willing Workers on Organic Farms) to turn and tend the soil without chemical help. Inspired by Caity's values-based enterprise, we bought unusual melons plus an irresistible egglant in the shape of a smile. It transpired that Okiwi were also growing for the kitchen at Earthsong, where we were heading next.
Given the challenging 4WD driveway and Barrier's off-grid simplicity, we were surprised at Earthsong's sophistication. Our suite had a high vaulted roof and pretty French doors at both ends. A bowl of cherries and decanter of port were waiting. After a piping hot shower, my partner looked truly, deeply happy wrapped in a white waffle gown, admiring the Coromandel, bluish at distance, from our splendid bed. Thick straw bale walls insulated us totally from human sounds.
The heart of Earthsong is its food. At one big table with fellow guests - two educated European couples - supper was not just served, it was a performance.
Trevor Rendle, chef and owner, burst from the kitchen to explain each of his four courses and palate-cleansing sorbets in detail. He'd rub his hands describing his delicious taste-texture inventions: cold slivers of lemonade with hot coriander-laced mussel fritters; soft manuka vanilla mascarpone stacked between crunching butter wafers. An advocate of Italy's Slow Food Movement, Earthsong favours seasonal ingredients, and supper took almost four hours. We remembered how sensual and satisfying it is to savour proper cooking.
Back in our room bedsheets were turned back, cookie jar restocked. We felt discreetly spoiled.
To fully appreciate the next night's dinner, we undertook the strenuous Mt Hobson walk up Barrier's central ridge. Our rental company helpfully dropped us at the trailhead; the driver was another self-determined character with quirky tales to tell. From vertiginous Windy Canyon we crossed plateaux of wizened manuka and a staircase up the island's highest peak, catching glimpses of coast and infinite blue through the trees. Joyously, the track ended at Kaitoke hotsprings where we soaked our well-used muscles before heading home. Oh did we appreciate our luxury, gastronomy and Egyptian cotton that night.
Our last morning was for languorous breakfasting and enjoying Barrier's epic beaches. We loved the huge swimmable rockpools at Mermaids Cove, and, after wading a shallow river, the picture book white-sand curve at Harataonga. Both were deserted, which was luxury of another kind. Meaning-of-life conversations just flowed.
Back at Claris, we spotted a hand-painted BurgerShack sign with traditional bun, lettuce leaf and tomato, but with a crayfish where the patty belongs. We gorged on excellent snapper burgers and raw fish salad then headed to the airfield.
There was one tiny plane which said Air Discovery. Its pilot said "You're Rosie?" took our bags, and that was check in, complete. Five minutes later we were looking down on a quirky outcrop in endless sea. Thirty minutes later we were in Auckland, feeling re-inspired, and almost reborn.
ORGANISE YOUR BREAK
Earthsong Lodge has only three rooms. Their dinner, bed and breakfast package is $995 per night double occupancy. Phone: (09) 429 0030.
Great Barrier RentaCar also help you plan and co-ordinate your trip and activities. Phone: (09) 429 0767.
Air Discovery charters 30-minute flights from Auckland, Waiheke and Tauranga for $160 per person each way. Phone: 0800 247 347.
Fullers passenger ferries take two and a half hours from downtown, and run through the summer. Phone: (09) 367 9111.
The Outdoor Pursuits Centre has offers half-day kayak hires, with snorkel, sailing and coasteering options too. Phone: 0800 OUTTHERE.