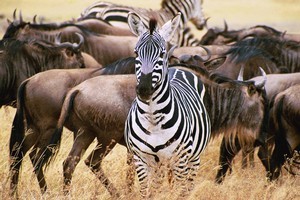 My partner and I are planning a trip to Tanzania, Kenya, Zanzibar and possibly some surrounding countries. When would be the best time to visit to get the most out of these countries with plenty of animal viewing?
- Emma McWatt
There are several key places in the region to catch animals (in safari and migrating settings). A rough itinerary would be to concentrate on Kenya and Tanzania, with perhaps a jaunt out to Zanzibar.
You should also plan on climbing Mt Kilimanjaro in Tanzania. It's the highest peak in Africa. A hike up is an unforgettable experience.
In Kenya, the Masai Mara National Reserve has an astonishing amount of wildlife across its 1510sq km plains.
It even connects in a continuous manner across the border to the famed Serengeti Plains in Tanzania.
At Masai Mara, the annual wildebeest migration happens in July and August. Millions move north from the Serengeti to seek new pasture before turning around in October. Apart from that, you'll be able to watch lions, cheetahs, leopards, elephants, buffaloes, zebras and hippos. Most visitors go on an organised safari.
The Serengeti National Park in Tanzania is its largest and most famous of parks. It's a 14,763sq km wilderness and many come to catch the wildebeest migration. The best place to catch the action is at the famous crossing of the Grumeti River, in the park's Western Corridor.
The migration usually takes place between May and July. Otherwise, the greatest concentration of wildlife here is generally between December and June.
Once you've had enough of animals, kick back on a beach in Zanzibar.
* This week's winning question is from Emma McWatt, who'll receive a copy of Lonely Planet's East Africa ($69.99)
Pitcairn pleasures
I am fascinated by Fletcher Christian and the story of the mutiny on the Bounty. Could you please tell me how to get to Pitcairn Island, what accommodation is available there and what it costs?
- Alisdair Wright
Shawn Low, Lonely Planet's Asia-Pacific travel editor writes:
Tiny Pitcairn is a fascinating island - the families there are descendants of the original Bounty mutineers. Current population is about 50. The only way to the island is via ship.
From Tahiti, you can board the MV Claymore II. It's a 32-hour journey. Rates are a hefty US$5000 ($6725) return. You can also try contacting M/V Braveheart, a 39m research vessel that leaves from New Zealand. The RV Bounty Bay (pacific-expeditions.com) leaves from the Cook Islands and prices start at US$1900.
There's no hotel on the island. Visitors are accommodated with locals and costs start from US$70 a night. There are also self-contained options.
You can get more details at visitpitcairn.pn.
Win a Lonely Planet guide book
Email your questions to travel.info@lonelyplanet.com and they'll be answered by Lonely Planet's experts. In addition the best question each week will earn a Lonely Planet guide book. Add your postal address and the guide book you'd like to receive (see lonelyplanet.com).
Not all questions are answered and Lonely Planet cannot correspond directly with readers.