Megan Singleton discovers beautiful cities in a whistlestop train journey.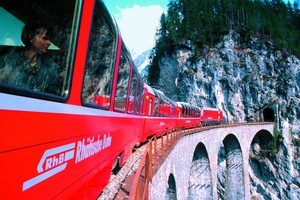 Relaxing in comfortable seats and watching Europe zoom past outside the window while tweeting, websurfing, updating my Facebook status, sipping on champagne and enjoying dinner ... this more than makes up for the fact that I never did the Tiki Tour thing during my long ago OE days.
My test run of whizzing between seven glorious European cities in seven days, staying in cute bed and breakfasts dripping with hanging baskets and travelling in high-speed modern trains, confirmed rail is the perfect option for someone who last visited Europe with about £10 to spend but these days prefers more comfort.
Europe's extensive rail system, particularly through France, Belgium and Switzerland, is a breeze with quick connections and grand landscapes outside.
No navigating maps the size of a picnic rug, no checking in two hours before departure (in fact two hours is about as long as it takes to get anywhere), restrictions on liquids, or any customs, x-rays or pat-downs for that matter.
And the train stations are invariably in the heart of each city so it's easy to get a taxi or bus to your accommodation and start exploring immediately.
From London's St Pancras/Kings Cross it's under two hours by Eurostar to Brussels where an afternoon visiting the Magritte museum, sampling Belgian beer and buying chocolates should keep you entertained.
The English countryside merges into Belgian paddocks, hedges and farmhouses and if wasn't been for the blackness of the undersea tunnel, you'd think you were still in England.
The Thalys train to Paris from Brussels is fast (average speed 300km/h) and we arrived at Gare du Nord in under two hours. It has WiFi onboard so in between eating the meal provided free in first class (including champagne) and gazing at the scenery, I surfed the net, tweeted, updated my Facebook status and suddenly we'd arrived.
We only stayed one night, which is not long enough in Paris, but the next day we set off for Strasbourg in the north-east of France, arriving just over two hours later.
Strasbourg, on the border of Germany, is the capital of Alsace. I think it is the prettiest city in Europe. Not only is this the seat of the European Court of Human Rights, European Parliament and many other governing bodies, it is also stunningly quaint and full of history, having been permanently settled over 3000 years ago.
You really need at least two days to appreciate Strasbourg but in the spirit of the old Tiki Tour the next morning we headed to Lucerne in central Switzerland via a quick (nine minute) change in Basel.
The Wilhelm Tell Express is a separate package that includes a steam boat journey across Lake Lucerne and a panoramic train ride with windows over the ceiling from which to marvel at the valleys, mountains, rivers and bridges on our way to the ancient town of Bellinzona - best known for its three castles.
After a few hours we caught another train to Locarno, on the Swiss/Italian border, where gondolas up the mountain provide stunning lake views and I tasted grappa for the first time - it was like drinking fire.
The Locarno Film Festival is held here each August on the cobblestone piazza and draws cinema lovers from all over the region.
Sadly, after a night in Geneva a four hour train ride to Montpellier in the south of France, this was the end of my belated Tiki Tour.
This university town with piazzas edged with centuries-old buildings and fountains pivoting as centrepieces is bursting with plenty of students saving up for their OE ... I felt like telling them to wait a few years and do it with a bit more comfort and style.
CHECKLIST
Getting there: Singapore Airlines has an extensive network throughout Europe flying into 10 European cities direct from Singapore.
Getting around: Book your tickets online or through your travel agent as Rail Europe passes are not available in Europe. You'll also need to validate your tickets at the station and in some cases reserve seats in advance. See raileurope.co.nz.
Megan Singleton visited Europe with help from Rail Europe and Singapore Airlines.