Food, wine and fun trump sleep in Spain's capital city, says Susan Buckland.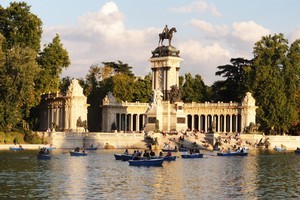 Restraint would have been a fine thing. But two tapas bars into the Madrid night had whet the appetite for more. Bite-size Spanish goodies kept appearing on the counter between glasses of sangria and ruby rioja. Sweet stuffed peppers, Iberian cured ham, cheese from La Mancha, Catalonian white sausage, Galician tuna ...
Madrid nights are enticing. I lost count of what I ate while my Madrileno friends paced themselves with a fried cod here, a pickled pimento there and civilised amounts of wine. When midnight swung round, they declared the night young. So it was off to another tapas haunt past swarms of Madrilenos buzzing around al-fresco dining tables on footpaths and in moonlit squares.
Put their predilection for late nights down to sunshine and siestas. Warm days soften to velvet nights when Madrilenos, recharged by afternoon catnaps, return to the streets. They wander in and out of their favourite dining spots, making parts of the city feel like a giant party.
On this night of the long tapas, we paused in lovely Plaza de Santa Ana and, under the bronze statue of Spanish poet Frederico Lorca, I got my second wind. "Brava," encouraged my Spanish comrades as we plunged forth into the tapas bars of the Huertas quarter.
First to El Respiro, or was it La Trucha? Both were flush with atmosphere, and hanging rows of cured hams waiting their turn to be sliced. I declined pig's cheek in favour of codfish from Cuenca. Long after midnight, I tucked into Manchego cheese at Gonzales. Or could it have been La Venencia, an 85-year-old sherry bodega where orders were chalked on the counter and vintage bottles wore decades of dust? Put my fuzzy recall down to the approaching dawn.
Despite the endless presence of food, I didn't see many overweight people. Their fondness for walking between tapas bars may help to stave off spare tyres. My walking tour next morning helped to mitigate the effects of my tapas marathon. And the old centre of Madrid, a city of 3.3 million people, fabulous art and streets both grand and intimate, proved utterly absorbing.
Its heart beats away in Puerto del Sol (Gate of the Sun). The oval plaza is at the centre of Spain's network of roads and draws people like a magnet. Under its historic clock, they splash out in shops and drink horchata, Spain's refreshing drink made from chufa (tiger nuts), water, sugar and cinnamon.
Nearby Plaza Mayor also fills with people, but few greeted our morning arrival in the 17th-century square, apart from a man blowing huge soap bubbles for an entranced child. All the better for viewing the majestic, enclosed square and its patrician statue of Felipe 111 on his horse.
Plaza Mayor has been a marketplace, bullfight arena and venue for public executions during the Inquisition. These days, waiters balance trays on fingertips, fiery flamenco dancers and luscious-voiced singers accompany the haunting strains of the Concierto de Aranjuenz.
If you are deluded enough to allow only three days in Madrid, hook into a city walking tour with a knowledgeable guide. Before setting off to the hilltop quarter called Madrid de los Austrias (in reference to the Hapsburg's 200-year grip on Spain), our guide introduced us to Mercado de San Miguel, a stylishly converted market where the cognoscenti gather for good food and company.
The temperature on this September day was heading for 30C and, under a piercing blue sky, we headed for Las Austrias.
A rainbow display of espadrilles had us pausing at Casa Hernanz. But Madrid is full of fashionable shoes at reasonable prices, so we pressed on to the Royal Palace with its sweeping hilltop views. Rather than rattle around in its vast spaces, the Spanish royals now live in more discreet palaces.
When lunch swung round, we snapped open starched napkins at Cafe de Oriente overlooking the palace gardens. It was 2.30pm, we were easing into Madrid's rhythm. And as it's the main meal of the Spanish day, we succumbed to delectable dishes and wines, at the end of which we embraced the idea of the siesta like old hands.
However, the afternoon nap was scratched in favour of The Prado, Madrid's treasure house of paintings by Spanish and other European masters. And during our too-short stay, time would be found to visit the Thyssen Bornemisza gallery, with its magnificent private collection ceded to Spain, and the Reina Sofia gallery of 20th-century art.
And then another night was upon us, starting in Las Maceira, a packed Galician restaurant in which patrons couldn't get enough of the polbo a feira (octopus) and the fish-rich cuisine of the northern Spanish region. We stoked up on Galicia's albarino wine and noisy cheer before transferring to Las Palmas, a packed flamenco dance venue.
I managed to walk off this second night's indulgence by lunchtime the next day, thanks to Ana Chacon, a high-energy shopping guide who steered us from haute couture to more modestly priced fashions.
In Calle Serrano, Madrid's "Golden Mile" of top-drawer fashion, I drooled over an Angel Schlesser dress and stratospherically priced Manolo Blahnik shoes.
But Ana had promised earthier prices on the ornate shopping street Gran Via, the streets leading from it to Puerto del Sol and in the colourful lanes of nearby La Chueca, home to Madrid's gay community.
And nowhere are goods cheaper than at El Rastro, Madrid's Sunday market. As Sunday was my last day in Madrid, friends Sofia and Nekane and I plunged into its riot of colour. At 10am, El Rastro's tapas and canas (lemon-infused beer) places were bursting with patrons. "On Saturday nights some people don't bother to go to bed," laughed Sofia.
They come here from the neighbouring Cava Baja tapas bars and from Lavapies, where Muslim, African and East European inhabitants warm up the nights with exotic music and cuisine.
The girls had to yank me away from El Rastro. "You have to see Castellana and El Retiro before you leave," said Nekane. Sporting my newly bought knock-off sunnies in the sierra sunlight, I was whipped off to Castellana, the commercial heart of Madrid, where contemporary skyscrapers vie for attention.
And then back into the centre for a Madrid swansong in El Retiro. Madrilenos were out in force in their magnificent, 140ha park of landscaped gardens, lawns, lakes, sculptures and exquisite crystal palace.
Lovers wandered along forested paths, families rowed boats, people danced to the music of buskers and fortunes were told. We sat beside the lake with slices of melt-in-the-mouth omelet and glasses of wine and toasted the scene. "You need to come back," smiled Sofia. I drank to that.
FACT FILE
Emirates' four daily flights from New Zealand connect at Dubai with the airline's daily service direct to Madrid and 24 other gateways in Europe. Earlybird return fares to Madrid are now available from $2156 for economy class and $7656 for business class, inclusive of all taxes. Various conditions and travel periods apply.
Visit the National Tourist Office of Spain's website at spain.info
Susan Buckland travelled to Madrid courtesy of Emirates airlines and the National Tourist Office of Spain.