Carolyn Bergquist enjoys a short break on Waiheke, so near to Auckland, yet so far.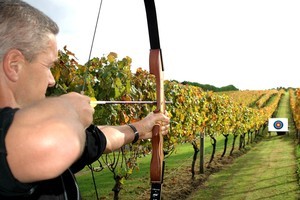 Part-way along a walk through outdoor sculptures on Waiheke Island, we became part of an exhibit. We found ourselves mingling with people carrying umbrellas - the shade cast by the umbrellas and people walking along the hillside track became part of a composition by Japanese artist Kazu Nakagawa.
This piece of living art was visible from the ferry terminal Matiatia, encouraging visitors to join the 2.5km walk through the biennial Headland Sculpture on the Gulf exhibition.
The walk, which showcases contemporary New Zealand sculpture against a backdrop of beautiful coastal scenery, was a great way to begin a weekend break on Waiheke Island. The 39 works by 44 established artists were specifically created for the Waiheke event and the sculptures and island landscape combine to offer visitors a very special experience.
Afterwards, we headed to Fun Rentals to collect our car for the weekend. Greg Minter offers an unusual range of vehicles and ours was no exception. We took possession of something that was a cross between a Lada and a Hummer, scaled down and masquerading under a Nissan badge.
After bonding with our vehicle (we nicknamed it "Ivan"), it was off to Onetangi Beach, a classic stretch of golden sand and sparkling clear water, for a swim and some R&R under a pohutukawa tree before heading to our Saturday night accommodation.
We arrived at Te Whau Lodge to a warm welcome from our hosts Gene O'Neill and Liz Eglington, and much needed cup of tea, accompanied by delicious homemade biscuits smothered in chocolate.
From the moment we arrived we knew we were going to enjoy our time at the lodge, and canapes on the sundrenched deck with fellow guests from Singapore and England fulfilled the promise of culinary delights.
The lodge is on Te Whau peninsula with panoramic views over the Hauraki Gulf and Waiheke Island. There is accommodation for up to four couples at a time, so an indulgent, relaxing stay is guaranteed.
A feature of the lodge is its cuisine, lovingly prepared by our host Gene. The evening meal consisted of a two-course plate du jour. A perfect combination of duck, beans and hazelnuts, drizzled with a raspberry vinaigrette, was followed by an indulgent chocolate fondant creation. A small, carefully chosen wine list is available for guests and the Gibbston Valley pinot noir proved a great partner to our meal.
While the hot tub with its stunning night time views beckoned, we reluctantly made our way to our bed, dreaming of further treats for breakfast.
Next morning, we dragged ourselves away from the serenity of Te Whau Lodge with great difficulty - and high hopes of returning - and headed to Palm Beach for a wake-up swim.
Later that morning we joined the Fullers Taste of Waiheke tour for a day visiting three wineries, starting with a light lunch at Stonyridge, one of the islands best-known vineyards, renowned for the success of it's bordeaux-style reds.
This was followed by a tour of Rangihoua Olive Estate where we gained insights into the island's olive oil industry, including a chance to view the Italian olive oil press and learn more about the process of turning olives into the beautiful green-gold liquid we had the chance to sample at the end of the tour.
Our Fuller's driver, Kenny, provided us with plenty of information about the island along the way, including warnings about the deficiencies of island drivers - "car in gear, brain in neutral".
After a visit to the island's only microbrewery at Wild on Waiheke - which also produces a fine ginger beer - and a final taste of local wine at the Mudbrick Vineyard with its stunning views of Auckland, we reluctantly boarded the ferry back. Up on the Matiatia hillside, the umbrella sculpture was still moving.
Travellers' tips
* Getting there: Fullers run regular ferry services to Waiheke Island. The return trip costs $33.50 per adult.
* Getting around: Try Fun Rentals for something different. Ph (09) 372 8001. funrentals.co.nz

* Where to stay: Te Whau Lodge, 36 Vintage Lane, Te Whau Point, ph (09) 372 2288. $585 per couple per night. $60 extra for Plat du Jour dinner. tewhaulodge.co.nz

* What to do: Fullers runs Taste of Waiheke - an all-day tour that includes a light lunch at Stonyridge Vineyard. The tour also visits Mudbrick Vineyard, Rangihoua Olive Estate, and Wild on Waiheke for boutique beers. Tickets $119, including return ferry trip. Ph (09) 367 9111, fullers.co.nz