This little-known Outback town holds a lot of Australian history, writes Carrie Berdon.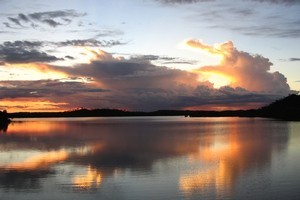 Considering the huge role the outback town of Cloncurry has played in shaping modern Australia, it is amazing that so many Aussies - let alone Kiwis - have never heard of it.
But it was here - lost in the sunburnt mining country of northwest Queensland - that the flying doctors were born; where the first ever Qantas flight touched down; where Australia's highest ever temperature was recorded (53.1C on January 16 1889); and two of the legends who grace Australia's dollar notes lived.
Oh, and the town was once the largest copper producer in the British Empire.
These days "the Curry" is a nostalgically beautiful pastoral and mining hub of around 4000 people straddling the Cloncurry River. Colourful, colonial timber buildings line streets wide enough for bullock teams to U-turn. And everywhere you look, there's an old-style pub, and balconies and porches-galore.
In true spirit of a mining town, there have been 26 pubs here over the years (including those that were burnt down and replaced).
The Wagon Wheel Hotel, dating to 1926, is said to retain the "Curry" flavour. And almost on cue as I sat down to my "carpet bag" steak, I overheard some miners ferociously debating clashes between mining and exploration chiefs.
But my first stop to find out everything about the place was the museum, and to meet born-and-bred local Gail Wipaki, who told me what's good about living here. "The freedom and the friendliness," was her reply. "It's a nice place, it's got everything."
But what about the temperatures? Thermometers here often creep into the upper 40s and heat is so consistent that Cloncurry is tagged to become Australia's first solar-powered town. "The air conditioning is useless when it's 46 degrees by 11am," she said. "Not that the heat stops us doing anything, of course. You still gotta have your roast dinner on Christmas day, no matter how hot it is. But when it rains it's beautiful here. The trees dance and shine and we wouldn't want to live anywhere else."
Cloncurry was founded when copper was discovered here by Ernest Henry in 1867. Gold was discovered shortly after and it became one of the most prosperous towns in the outback.
Today, it is booming again, thanks to soaring mineral prices which have seen the old mines re-open. Outback riches, though, can fast turn to dust. And this is what happened to Cloncurry's neighbour Mary Kathleen, a former uranium boom town of 1000 people, now a collection of concrete slabs where carports and laundries once stood.
Locals of the Curry keep Mary Kathleen's memory alive with a memorial and Museum. The museum boasts an impressive mineral and gem collection, which is ranked as one of the most comprehensive in Australia.
Such riches lure thousands of tourists and amateur collectors to the region every year.
Then there's the Cloncurry Shire Airport, where it's said the idea for Qantas was first mooted. The first Qantas flight flew from Charleville to Cloncurry on November 3, 1922.
The Qantas aircraft hangar, one of the original buildings used by Qantas, is still in use. Also Australia's Royal Flying Doctors Service was launched here. The town pays homage to its founder, Reverend John Flynn, through a museum and a memorial at the airport. John Flynn's portrait graces the A$20 note. And on one side of the A$10 note is the poet Dame Mary Gilmore, whose ashes are scattered over Cloncurry.
CHECKLIST
Getting there: Cloncurry Airport is well-connected to other local towns, including Mount Isa, which has daily plane services to Brisbane, Townsville and Cairns, mainly provided by Qantas and Macair Airlines.
Things to do:
* Mary Kathleen Memorial Park and Museum is in McIlwraith Street, Cloncurry.
* Ernest Henry Mine Tours run from May to September on Wednesdays and Fridays subject to numbers.
Further information: See cloncurry.qld.gov.au.
- AAP

Getting There
Fly there with Air New Zealand Book now
Find out more at Australia.com