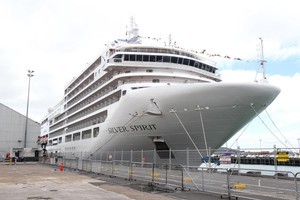 They call it luxury cruising for a reason - butler services and non-stop champagne. That's the life for those on board the Silver Spirit, which docked in Auckland yesterday as part of its 119-day maiden world voyage.
Built in December 2009, the ship is the newest addition to the Italian-owned Silversea fleet, named best luxury cruise line by Australia's Luxury Travel magazine last year.
Once onboard the all-inclusive cruise, which costs an average $1300 a day, up to 540 passengers can enjoy first-class luxury - including the services of a personal butler.
Having luggage unpacked, private cocktail parties in their quarters and champagne on tap were all part of the service, said spokeswoman Sue Marsh.
Other onboard attractions include live jazz, six restaurants and four spas.
Ship staff and the Port of Auckland exchanged plaques to mark the maiden voyage to the city.
Auckland hosted 10 cruise ships this week, one of the busiest in the port's history.
Retailers reported a jump in sales, particularly when three liners were docked on Tuesday.
"We have had 20 per cent more sales," said Champions of the World sales assistant Yasu Matsuzaki. "The All Black jersey and Rugby World Cup stock is the most popular."
At waterfront gift shop The Cabbage Tree, tourists were keen to buy New Zealand-made jewellery, T-shirts and bone carvings, said owner Robyn Stent.
Silver Spirit left Auckland last night and is due to arrive in Wellington tomorrow.