Just 30 minutes west out of Auckland city and Alexia Santamaria was feeling like she'd left the stresses of the world well behind her.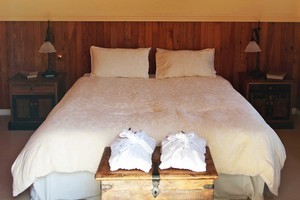 Two burned-out working parents and 30 child-free hours. The possibilities were endless - but how to maximise relaxation time? Stay local, that's how. Just 30 minutes drive west from the CBD we discovered a world of indulgence that made an overnight stay feel like a week.
Driving out to Waimauku, suburbia quickly became lush green pastures, orchards and vineyards. Lunch and a glass of wine in the sun at Bees Online seemed like a jolly good start - especially with no kids tipping out the contents of the salt shakers. The added novelty here is that the bees and their product add a honey twist to many menu items.
Our accommodation at Vineyard Cottages ticked all the boxes for a child-free weekend: secluded, peaceful - a total retreat. Fitted out early New Zealand settler-style, with farm equipment adorning the grounds, the inside had flourishes such as brass and iron fittings, iron pots, wicker brooms, old milk churns, rough-hewn wooden bench tops and a fireplace. There was a basket with eggs, bacon, tomatoes and mushrooms and a fresh loaf of bread for breakfast the next day.
As if just being in this lovely environment wasn't enough, Debbie Gillespie of BodyMind Balance soon arrived to give us a massage. It felt a bit surreal. Was this actually our life?
After we'd recovered the energy to venture out, we decided to go for pizza - no trip out west would be complete without a visit to Dante's. For the uninitiated, it is the only pizzeria in the country to be a member of the Associazione Verace Pizza Napoletana, certifying them to produce real Napoli pizza. The oven was even flown out from Italy. People have been known to travel from Sydney for this.
A Dante's pizza and a bottle of wine from the Matua vineyard in hand, we headed to Muriwai beach for a beautiful sunset, then back to the cottage where the temperature had dropped sufficiently to warrant lighting the fire. Perfect.
The next day, after breakfast, we felt it rude not to sample some of the local vintages. Awa Valley, Coopers Creek, Matua, Westbrook, Kerr Farm, Nobilo and many other boutique wineries all call this area home. We were taking it easy so we drove, but Bill and Eileen at the cottages can organise vans.
Before we knew it, it was lunchtime and we came to our last stop at Hallertau Brewbar. After all that wine, beer was a nice change and we tried one of their tasting stands with five beers they brew on site. We loved the Luxe Kolsch and the seasonal Minimus, especially when accompanied by a platter heaving with German sausages, antipasto, seafood, fresh bread and dips. The live music was great and we did notice the playground, just in case we ever wanted to return with our peace-shattering offspring.
Clinging to every last moment, we indulged in a fresh fruit ice-cream from a strawberry farm on the road back.
The perfect end to 30 hours of child-free bliss. And do their little faces look cuter after some time away? Very, very possibly.
IF YOU GO
October 2014 update: Bees Online is now known as Provenance
791 SH 16, RD3, Waimauku
Phone: (09) 411 7953
Make sure you check out the gorgeous honey products in the shop after you eat.
Vineyard Cottages
1011 Old North Rd, RD2, Waimauku
Phone: (09) 411 8248
The standard rate for the cottages includes breakfast. Massages by BodyMind Balance can be organised through the owners. You'll feel like you're in a secluded valley miles from anywhere rather than 30 minutes from town.
Dante's Pizza
316 Main Rd, Huapai
Phone: (09) 412 8644
Our pick is the Queen Margherita. Be warned - you will never eat pizza anywhere else again.
Hallertau Brewbar and Restaurant
1171 Coatesville Riverhead Highway, Riverhead
Phone: (09) 412 5555
Live music on a Sunday with friends, a platter and some boutique beer. Perfect. Try the fruit wines too.