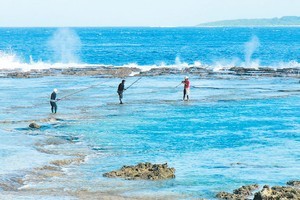 Where would you recommend for a Pacific Island holiday for a solo female traveller willing to pay a reasonable price? I am a young-at-heart 50-year-old.
- Donna
Shawn Low, Lonely Planet travel editor (Asia Pacific) replies:
Tonga should certainly be one to consider. It's not a popular as Fiji or Vanuatu and that guarantees an authentic local experience.
First things first: safety. Tonga is safe for solo travellers. There have been reports of theft (someone we know had things taken from her bag while it was on the plane) but as long as you exercise usual precautions, you'll be fine.
Now, on to the fun stuff. Tonga has a laid-back vibe and it's evident in the carefree, friendly attitude of the local population.
You'll most likely start your holiday in Tongatapu. You could spend two days touring the island, exploring archaeological marvels, caves, visiting the beach and doing some diving, snorkelling or kayaking.
There's great seafood by the lagoon.
Heading further afield, you should visit some other islands. Plane or ferry to 'Eua to hike its rugged landscape to some spectacular cliff-top viewpoints. Visit Tonga's best-kept secret, the Ha'apai islands: 45 of these 62 of these islands are uninhabited and it's the classic island paradise with palm-fringed islands, vibrant reefs and white-sand beaches. Great for just taking it easy.
Fishers' paradise
I am planning 10 days in Perth and I would love to go fishing off the western coast. Where is the best place to get on a charter trip from? Where can you do dive trips from and what locations are a must to dive at?
- Ellie Bowcock
Western Australia has more than 6000km of coastline, making it a fishing enthusiast's paradise.
There are several locations around Perth for land-based fishing. These spots include the river mouth at Fremantle up to Mosman Bay and North Mole.
Rottnest Island sometimes has tuna and marlin. Mandurah, 75km from Perth, has an estuary and a beach you can fish at.
You can also charter a trip via Mandurah Fishing Charters. Houtman Abrolhos Islands, an archipelago of 122 coral islands 60km off the coast of Geraldton, is another spot with fishing charters.
Check out Abrolhos Fishing Charters. For charters in and around Perth, check out Mills Charters.
Note that you'll need a recreational fishing licence if you intend on catching marron (freshwater crayfish) or rock lobsters. Check fish.wa.gov.au for details.
With regards to diving, Rottnest Island and Houtman Abrolhos Islands are good spots. Check out Oceania Dive.
If you like diving wrecks, HMAS Swan was scuttled at Brusselton (capediveexperience.com) and HMAS Perth is near Albany (albanydive.com.au).
* This week's best question was from Ellie Bowcock, who receives a copy of Lonely Planet China ($69.99).
Win a Lonely Planet guide book
Email your questions to travel.info@lonelyplanet.com and they'll be answered by Lonely Planet's experts.
In addition the best question each week will earn a Lonely Planet guide book. Add your postal address and the guide book you'd like to receive (see lonelyplanet.com).
Not all questions are answered and Lonely Planet cannot correspond directly with readers.