Mitimiti's windswept beauty transports Liz Light to a land - and time - far away.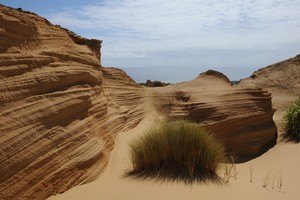 Journeys, meals, fishing trips, beach walks; everything at Mitimiti starts with a karakia - a prayer - giving thanks and asking for blessings from all the Gods; the ancient Maori ones as well as the newer Christian one.
Andrew Kendall briefly says the karakia, then we zoom off down the beach in his dune buggy. It's open, light, little and has 1900cc of VW grunt.
With wind in our hair and salt in the air we zip past layers of Tasman waves lining up behind the low-tide mark and over streams spreading across damp sand in wide silver braids. No one is on this magnificent beach but us.
Elemental and expansive, the beach is stunning - but the sand hills, on the north side of Hokianga Harbour entrance, are the prize at the end of it.
Fat tyres handle the sand easily and, with throttle down, we rocket up valleys and along ridges to the top of the tallest of many enormous sand hills. The ambience is Saharan, with finely corrugated mountains of sand that vary in colour from soft cream and golden honey to reddish-brown and change shape at the whim of the wind.
They are a stunning art form of sensuous curves, swirled crescents and dark shadows.
Beyond them, across the blue Hokianga Harbour, the scene is pure Northland. The towns of Omapere and Oponone straggle along the harbour and green farmland melds with forest-covered hills.
Andrew is the only person with a concession to take buggy tours on these massive dunes. He is Mitimiti-born and bred, and this has been his playground since he was a kid. Though he has explored the dunes hundreds of times, he never tires of being amongst their strange desert beauty and loves showing them to visitors.
I wander off. Downhill is easy, but walking back to the buggy is a frustrating two-steps-forward, one-back business with each step leaving sand slides much bigger than my feet.
A kilometre north, on the cusp between sandhills and soft rock, there is a collection of surreal wind-made sculptures. We walk around curved Henry Moore shapes, a great bird's head on a plinth, an earthy rendition of a kneeling elephant and cliff faces as fluted as flags in the wind. Pockets of spinifex push long tendrils over sand, in sheltered damp places yellow flowering lupins thrive, as does a stunted version of fragrant, white Christmas lilies.
We peer into a sand canyon that looks like its grand namesake but smaller. Layers of earth tell tales from history. A thick black stripe in tan and ochre earth indicates a massive forest fire many centuries ago. Maori oral history tells that this whole area was covered in a giant kauri forest and that Kupe, who discovered and explored Aotearoa, burnt it down.
Andrew is not convinced Kupe should take the blame for this, but he is convinced that Kupe departed Aotearoa here, for Hawaiiki, leaving spirits on each side of the Hokianga to guard it until his return. Kupe never made it back, but he gave his descendants such good directions that they migrated here.
It's a stretch, Andrew feels, to claim that he is descended from Kupe, but there's a good chance. But Andrew knows for sure that his great-great-granddad, Atama Paparangi, the local chief, was thrice painted by Charles Goldie.
Back in Mitimiti, on the hill above the marae and church, we pay our respects to Atama, who rests under a fine marble tombstone looking west over the sea. There is a row of Hotere tombstones in the cemetery, and yes, says Andrew, Ralph Hotere, arguably New Zealand's greatest living artist, was born in Mitimiti.
We head north to where a stream crosses the beach. Above the beach two little houses and a big water tank sit on the grass. This is where Ralph Hotere was born. I'm not an art expert, but it makes sense that the great man comes from this remote and beautiful place.
Hotere's work, I know, has a dark, brooding spirituality. It speaks of this untamed coast, it's spacious beauty and the complex crossover of Maori and Christian spirituality that emanates from the cemetery, church, streams and rocks and the great curved sandhills and God-carved sculptures within them.
IF YOU GO
Getting there: Mitimiti is north of the Hokianga Harbour, on the coast at the end of the road that runs west of Kohukohu.
Where to stay: Andrew Kendall and his wife Dianne have a B&B at Mitimiti. Staying with them is an easy introduction to contemporary Maori culture. The Kendalls will provide dinner by arrangement. Kaimoana never tasted better. Backpacker accommodation can be arranged for larger groups. Phone (09) 409 5035.
Exploring the area: Andrew Kendall also runs Sandtrails Hokianga, guiding people around the sand hills and sculptures on the north side of Hokianga Harbour.
Horse trekking: This is a magic place to ride, and nothing beats a long, fast beach gallop. Andrew can arrange horse-riding adventures with his cousin Rod Penney.