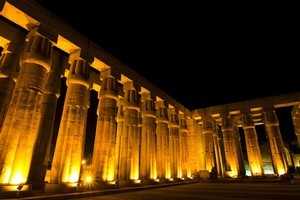 I am off to Egypt ... like everyone else, no doubt I'll marvel at the pyramids and all the ancient sights. But I want to be sure I actually understand what I am seeing to fully appreciate it. Call me a nerd, but I'm looking for recommendations for any day tours that provide an educational, anthropological tour of the pyramids and sphinx, something that really explains what you're seeing and leaves you going "wow, I've really learned something". Or is that part and parcel of entry to the sights? I'd hate to fly back to New Zealand and not fully appreciate what I've seen.
- Nathan Albury
In an ideal world, you'd bump into a Lonely Planet author doing research. He/she would let you tag along and give you a running commentary on the sights.
In reality, the odds of that happening are quite remote. There are companies that run tours but a number run scams and are of poor repute. Hotels and touts will try to get you to book tours.
While some might give you a good deal, they are often earning a commission so avoid their pressuring.
Our Cairo author recommends Noga Tours. Their tours are much better than their website. In case you want to book online, note the bottom bar of the website works. The top bar doesn't. Other recommended local agencies include Backpacker Concierge who are a tech-savvy bunch and respond quickly via email, Twitter and Facebook; Egypt Panorama tours; Misr Travel and Travco.
If you want to save money, you could buy a ticket to the sights and attach yourself within earshot of the many tour groups that teem the pyramids and sphinx. Cheeky.
A different Paris experience
Having already visited Paris a number of times and ticked off all the big attractions (Eiffel Tower, Champs Elysee, Louvre), I will be there again soon with my partner for two nights on the way through by train to Spain. How would you suggest spending that time for a relaxed romantic pit stop?
- NL George
It sounds like you've ticked off all the major sights in Paris. There are a lot of smaller, lower-key sights that are worth seeing. The Marais and Bastille areas are filled with pre-Revolution architecture including the oldest house in Paris, the 13th-century house at 3 rue Volta.
I could go on suggesting sights but would be second-guessing where you've been. Instead, I'd suggest doing an activity. There are more than 300km of cycling lanes in Paris and you can rent a bicycle from Maison Roue Libre for about €20 ($34) a day.
Under the Paris Respires scheme, large sections of the roads by the River Seine, Marais, Montmartre and other places, are closed to vehicles on Sundays from 9am to 5pm. You could, of course, walk freely too.
Since food plays a large part of the Paris experience, why not sign up for a cooking class? Some good schools includes: On Rue Tatin, Cook with Class, Patricia Wells, Maguerite's
Classes run anywhere from two hours to a full day and some even include a visit to the local market. The resulting experience is more memorable than a typical souvenir.