Liz Light explores Westport; a town that owes its prosperity to the earth's bounty.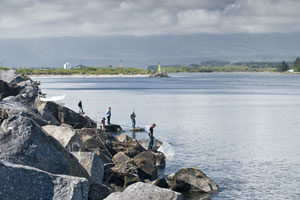 Gibby's Cafe, main street, Westport has slices of bacon 'n' egg pie as big as bricks, fluffy date scones that compete with the pie in size, divine whitebait fritters and mugs of tea for $1.80.
There's a range of yummy slices from the 1970 edition of Edmonds Cookery Book; ginger crunch, chocolate rough, peppermint slice and caramel shortcake. I love this food. It takes me back to my childhood and my mum's weekly baking day.
We meet Phaedra Hurst at Gibby's. Phaedra is not from Westport but, a few years ago, fleeing Auckland, she arrived in Westport and absolutely, indisputably knew this was where she wanted to live.
"It has a laid-back lifestyle, beautiful scenery, awesome walking tracks and friendly, unpretentious people."
So she stayed. Phaedra loves Westport's heritage buildings, became fascinated by the town's history and now takes visitors on guided walks.
Forty metres from Gibby's we stand on the bank of the Buller River, the reason for the town's existence.
Phaedra tells us that Maori first settled near the river mouth in around 1300, though the Maori population was still small when the first Pakeha sailed up the river in 1845. Captain Thoms and crew had been slaughtering seals at nearby Cape Foulwind when he left the mother ship outside the bar and explored the river in his whale boat.
Not much happened for 15 years until word of gold attracted surveyors, geologists and dreamers, and a settlement grew west of the present town. This was soon undermined by floods and settlers moved to where Westport is now. But, Phaedra explains, though Westport began as a supply town for prospectors and gold-miners, the shiny stuff soon fizzled out and Westport's prosperity was, and still is, based on coal. Black gold.
The discovery of mountains of high-quality coal in the nearby hills, in 1877, coincided with shipping's change from sail to steam and the problem of the long distances between coaling stations, which had been stopping steam-shipping in the Pacific, was solved.
Westport was soon a boom town, with a railway linking it to the Denniston mines. Coal was brought to Westport by rail and, with the help of giant buckets and complex gantries, poured into the holds of waiting ships. Turn-of-the-century photos in Westport's Coaltown Museum show rows of ships, as many as 20, lined up on wharfs stretching along this riverbank.
Work was plentiful, people came, coal was mined, the port was busy, money flowed and Westport blossomed. There are not many of the original, wooden 19th-century boom-town buildings left (they were destroyed by fire or rotted after years of wet winters) but, by 1900, Westport's prosperity brought substantial, long-lasting brick buildings.
The Carnegie Library, the Post Office and a fine BNZ bank are legacies of this era. Between these notable civic buildings, late-Victorian blocks of shops have been recently prettified and - an unexpected bonus for Art Deco lovers - the Buller County Chambers and Municipal Chambers, both built in 1939, are true Deco treasures, inside and out. The brown stone Municipal Chambers has a grand clock tower and is framed by two giant phoenix palms.
Nearby Victoria Park once hosted horse races and, though racing has finished, the century-old trees and grand war memorial entrance make the park a fine place for a stroll. Pride of place is a WWI statue of the symbolic soldier; a young man with a jaunty hat, a walrus moustache and a faraway look in is eyes.
Across the park we visit a sculptural area devoted to coal miners. It's made of concrete, stone and wood - the elements of a mine - and has a path slowly turning on itself, down into the earth. Near the bottom, a symbolic miner sits on a rock. I read a poem, by K.J. Hill, set into its concrete edge. The last two lines have been given heart-wrenching poignancy by the Pike River tragedy.
"Where dimly shines light from the last carbide lamp
"In a dark lonely place ... so far from the sun."
It's fitting that the walk finishes here. Westport is a town whose prosperity depends on coal and has for 133 years. The Stockton Mine, not far north, employs 500 people and yields 1000 tonnes of coal each day. Since mining began, 63 million tonnes of coal has been taken from this coast. The earth gives and, sadly, sometimes, the earth takes away.
IF YOU GO
* Westport walking tour. Phone Phaedra Hurst on (03) 789 8749; email: westporttourguides@xtra.co.nz.
* Coaltown Museum, Westport. Ph (03) 789 8204; email: coaltown@xtra.co.nz.
* Kea Heritage Tours: Tailor-made tours all over the West Coast; great for groups. Ph (03) 768 9292.
Where to stay: There is plenty of motel, backpacker and B&B accommodation in Westport. For a treat, try Punakaiki Resort, next to the famous Pancake Rocks. Traditional hotel rooms and eco-suites.