Goat Island proves the perfect base for a a bit of fun on a summer's day out, finds Cate Foster.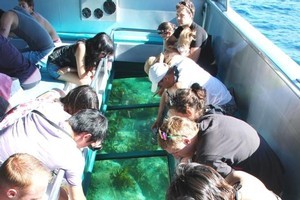 For those growing up in or around Auckland, a trip to the Goat Island Marine Reserve is almost a rite of passage. Given that it was a weekend rather than a weekday when we visited, not all the beach was filled with school groups and scout posses but it wouldn't have taken much to imagine it was. However crowded though, on this glorious Saturday in early summer, this pretty little beach radiated good humour and a collective desire to have fun.
We decided that there was nothing for it but to join in. Parking ourselves under a pohutukawa just coming into bloom, Steve struggled into his wetsuit, discovering a tad late that it had mysteriously shrunk since last he put it on. Undaunted, but walking slightly like a penguin, he headed for the water. I, too, joined the throng at the water's edge, but for the more sedentary occupation of a trip around Goat Island itself in a glass-bottomed boat.
Of the two activities on this particular day I think mine turned out to be the winner.
I saw more marine life, including fish of all sizes and many varieties, and learned more about what goes on under the water than I have known in my life to date, thanks entirely to Ivan, the skipper and guide, who was as knowledgeable about what we were looking at as he was expert at manoeuvring the boat. I learned that snapper live in small territories for most of the year. We drifted over one of these territories and oohed and aahed as a metre-long grand-daddy of the fish world swam up for a closer look.
Steve, on the other hand, swam a lot, flippered more and saw hardly anything. Perhaps this was partly because the seabed was disturbed due to a storm out to sea, possibly because he was looking in a territory that didn't have many fish left in it. Perhaps he was just unlucky. C'est la vie. We met up on the beach, worshipped a bit of late afternoon sun and pondered our next move.
In what turned to be a stroke of inspired - though hardly original - thinking, we headed to the Matakana Village complex, initially to have an aperitif before heading back to Auckland. However, the food in the recently revamped Matakana Market Kitchen restaurant smelled so appetising and looked so good we decided to eat there as well.
Sipping a cold rose, watching the green waters of the Matakana River slide by while tucking into the freshest of local fare, it seemed that not much was wrong with our world.
The bill when it came was surprisingly modest, so much so that we headed upstairs for a movie. At the end of a fun day out we totted it up and discovered we had spent $180 in total. OK, not free, but if in need of a treat this had been a day to please the senses and not break the bank.
Information
Getting there: Goat Island Reserve is 80km north of Auckland and takes about 70 minutes by car. Take SH1 and use the toll section to Warkworth, turn right into Sandspit Rd, then follow the signs for 24km.
Glass Bottom Boat: Departs from the beach hourly. Bookings advisable, call first to check weather conditions for visibility. (09) 422 6334. Adults $25, children 3-14, $13.
Goat Island Dive and Snorkel: 142 Pakiri Rd, Leigh, ph 0800 348 369. Snorkel and goggle hire $20, wetsuit $20, combo $30.
Matakana Market Kitchen: 2 Matakana Valley Rd, ph 09 423 0383.
Matakana Cinemas: 2 Matakana Valley Rd, ph 09 423 0218.