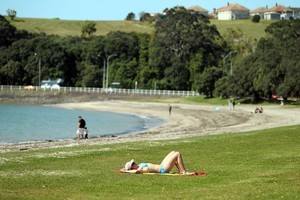 Auckland has topped the 2010 list of New Zealand's top travel destinations followed by the capital city - which knocked quake-ravaged Christchurch out of second place.
That's according to accommodation website wotif.com, which released its top 20 list today, based on domestic bookings online.
Last year, Auckland also claimed the top spot, followed by Christchurch and Wellington.
Wotif spokeswoman Megan Magill said there was a lot of "jostling" this year.
"We've compiled the list based on bookings made by both leisure and business travellers in New Zealand throughout 2010 and have noticed a few changes compared to last year," she said.
Franz Josef glacier was a new addition to this year's list at number 20, while Paihia, Wanaka and Invercargill all moved up the list.
The North and South Islands were equally represented in the top 20, with 10 destinations from each region.
New Zealand's top 10 destinations in 2010:
1. Auckland
2. Wellington
3. Christchurch
4. Queenstown
5. Rotorua
6. Dunedin
7. Taupo
8. Hamilton
9. Napier
10. Palmerston North
11. Nelson
12. Paihia
13. Tauranga
14. Wanaka
15. Te Anau
16. New Plymouth
17. Hanmer Springs
18. Invercargill
19. Blenheim
20. Franz Josef
- NZPA