Liz Light walks in the Grazalema Mountains in southern Spain.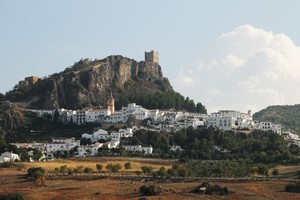 I trace our path on the topographic map and fret; we will be walking up hill and down dale over half the folds in this large map and I wonder if I'm up to it, whether my knees will last the distance and what about blisters? There are daily walking schedules of around 15km and I sit on my bottom at my computer all day so am not mountain-fit.
Romans walked these paths 2000 years ago, and shepherds followed their sheep and goats over these mountains forever. If bootless Romans can march for months I can walk for a week, it's just a matter of putting one foot in front of the other.
By morning, my anxiety has gone and Sam and I step into a perfect blue-sky day and head for Garganta Verde, the Green Gorge. We leave the road and amble across a farm path accompanied by the gentle ring-ding of bells around the necks of sheep and goats visiting a hand-hewn stone water trough.
Lacy brown butterflies blend into brown rocks and lizards, enjoying the early sun, scuttle away when they hear our footfalls.
It's autumn so the flowers have finished but bushes make a show of red berries and golden thistle heads the size of apples burst into the morning.
Soon, we are walking down, 300m down (our walking notes tell us) into a gorge on never-ending natural-stone steps. At the bottom of this river-created chasm, the sky is small and far away, and the light soft and eerie. Wild fig trees, tall and slender, stretch for sun and drop perfect sweet figs for morning tea.
Swifts swoop after insects and birds call higher up the chasm. We follow the riverbed and find a vast cave, a natural cathedral, which the river has gouged out over thousands of years. It's cool, dark and dripping and bats hang between ancient stalactites on the roof.
The only way out is up and, by the time we leave, the sun is high and hot. I have no option but to take it slowly, one hot step at a time, accompanied by lots of puffing, gasping and the occasional cuss.
Near the top of the gorge, we follow a side path to a cliff edge from which we watch griffin vultures. These are Europe's biggest birds, with a 2.5m wingspan and weighing up to 6kg. There are 200 breeding pairs in these mountains and 20, or so, nests on the saw-edged ridge in front of us. We pass the binoculars back and forth, bubbling with the excitement of seeing these birds glide effortlessly to land, stalling at the moment of touchdown, on the edges of their precipitous nests.
It's 6km back to Zahara and the path takes us through steep farmland with goats standing in high rocky places and sheep, silly things, hiding their heads behind rocks thinking we can't see them.
In Zahara, a white village bolted on to the side of a mountain, we drop into the terrace chairs of the first bar we come to. Sam orders the local lager and I white wine and we enjoy a bowl of cool, fresh, gazpacho before we plod from the plaza to the hotel.
Friday night is big in Zahara and, when we return to the plaza for dinner, most of the town folk are out and about, making the six bar/restaurants work hard. Three generations of women walk by with arms linked and a swarm of children, all dressed in their best, run from shop, to fountain and back to the plaza.
Senoras are squeezed into jeans, their breasts bubbling out of plunging necklines. Younger senoritas, in miniskirts, totter on cobbled streets in high-heeled boots and the lads they want to impress ride by on noisy scooters.
The days that follow are not unlike this with cool morning giving way to dry afternoon heat. Step follows step, up mountain paths, down into valleys and around edges of rocky bluffs. We walk through forests of mountain oak and cork trees and cool pine forests at higher altitudes, across valleys that smell of goat and pennyroyal and over mountain passes purple with crocus flowers and skylarks sing to accompany the goats' bells.
I pick figs when I feel like it and gather walnuts dropped on the path. Pomegranates offer themselves over orchard fences.
Each afternoon, hot, tired and foot-sore, we arrive at a cute white village and find all roads lead to the plaza. The inn is nearby and our bags, a bath and a siesta wait.
When the sun goes down, Spaniards come out to play. We return to the plaza and the restaurants clustered around it, settling in for a long, calorie-filled meal. I get fitter every day, not fatter, and we talk about our walk and look ahead to the paths we have yet to tread.
CHECKLIST
Getting there: Cathay Pacific flies to Paris and London, via Hong Kong, from Auckland every day.
Take the Elipsos night train from Paris to Madrid; it's comfortable and saves a night's accommodation. The AVE, Spain's fast train service, links Madrid to Seville 22 times a day. See railplus.co.nz. There are buses from Seville to Zarah.
Walking holidays: Inntravel features 85 independent walking holidays in Europe. They include accommodation, walking maps, luggage transfers, breakfasts and some dinners and lunch picnics. Go September through to May. The summer months are too hot.
Liz Light travelled with help from Cathay Pacific, Inntravel and Railplus.