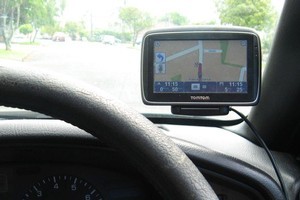 Driving on foreign roads, especially on the wrong side of the road, can be a challenging experience but a car GPS system can do a lot to ease the tension.
Retailing around the $800 mark, the TomTom Go 950 comes complete with maps of New Zealand, Australia, Europe, and North America, including Alaska, Hawaii and - crucially for us - Canada.
We had a few familiarity drives around Auckland - where we already knew where we were going - then put it to serious use during a 10-day drive around British Columbia.
The TomTom Go 950 is an easy piece of kit to operate, even though our lack of technical know-how meant we never used the machine to its fullest. For instance, we never managed - though I'm still trying - to sync it with my cellphone for handsfree calling.
But it was invaluable in getting us from A to B in a foreign land. While the system was good for highway driving and finding motorway off-ramps, it really came into its own in Vancouver, which has a number of one-way streets.
The LCD touch screen is easy to operate, even while driving, and its points of interest feature was useful when the fuel gauge started reaching low levels.
Of course, the 950 would have helped even if we had run out of petrol, as the features in its "Help Me!" programme include directions to the nearest public transport, police station, fire station and pharmacy.