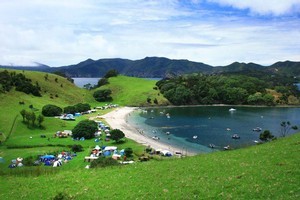 Greedy campers are rorting the Department of Conservation online booking system to give themselves more room - and shut out other holidaymakers - at our most beautiful coastal holiday spots.
These campsite-hogs are derailing the plans of other holidaymakers, who find they are unable to book campsites - even though the camp ground is half empty.
DoC camps are traditionally much cheaper than privately run camps, with spaces going for as little as $5.10 a night.
So sun-seekers wanting to book holidays at destinations like the Bay of Islands' Urupukapuka Island have not been entirely surprised to find camping sites there booked out this month.
Urupukapuka Island was made famous by American writer and outdoorsman Zane Grey in the 1920s, and has since become a playground for the rich and famous - and for a few budget-conscious visitors to the DoC campground.
But some frustrated holidaymakers who decided to stay with friends, after being unable to book camping spots, then visited the campsite and found it still had plenty of space.
They say this was because some people were booking large sections for small tents, or booking one site for every person instead of one for every tent.
Boatbuilder Richard Hart travelled six hours from Raglan to holiday at the island and has been going there since he was a teenager.
The 35-year-old tried to book online but found there were no vacancies after 28 December.
"The island was fully booked according to the website. No one is going to go all the way out there to stay for two days.
"When we got to the island we had a look round and saw there was a lot of space that could have been filled up." Another camper, Waitakere resident Karen Wyatt, called the online booking system a "complete waste of time".
She knew of one group of people who booked a tent site for each person, while another group who booked online moved to three different sites in 10 days because they wrongly thought there was not enough room for them to stay the whole holiday.
DoC Bay of Islands area office receptionist Melina Goddard handled the bookings.
"I spoke to one of the rangers today and people would book a huge site for only two tents," she said.
"It's a booking system, it doesn't account for how things work on the ground or in the real world."
She said DoC also allowed space for people who just turned up without having a booking. And the department was aware some people had turned up and not paid.
"Unfortunately that did happen. There's always going to be someone who's hiding in the tent and we can't always police everything."
Some sites around Auckland were also listed online as booked out over Christmas - 157 of Motuihe Island's 180 sites were booked but, according to the DoC website, it was full.
Motuihe's DoC resident ranger John Mills said if people booked and didn't show, the booking stayed in the system for 24 hours, tying up the empty site.
The booking team were on holiday and could not be contacted for comment.