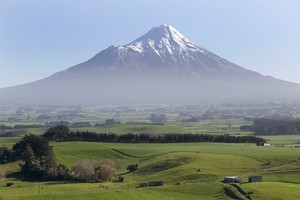 When rhododendron and world music festivals are the main drawcards to Taranaki, you could be forgiven for thinking the region has traded its wild west coast image for an altogether more hippy vibe.
The region's high-profile artists have left the local dairy industry with a very low profile these days. And boutique breweries and wineries are so prominent they almost outnumber surf shops along the coast. These attractions and others are all good reasons to visit the Naki, but so is the drive down - it's one of the great New Zealand road trips.
The gateway from Auckland to Taranaki is via Hamilton to State Highway 3. A stop for fresh, cheap fruit - much of it organic - at the Big Apple, just north of Te Kuiti, is a welcome break. And those with a skate boarding bent must stop at the Te Kuiti Skatepark.
From here on, the landscape's blackened rock faces thrust up from quiet, stream-lined valleys. Nikau palms proliferate among the flax stands. Prior to dropping into the winding Awakino Gorge, a clear day reveals Mts Ngauruhoe, Tongariro and Ruapehu, off to the southeast.
Then the road broadens slightly, and the gorge slopes off to reveal a wide flat river, edged by small piers protruding over the surface. This is whitebait country.
Past the Awakino Tavern, the road seems to morph into a grey ribbon, which hugs the base of rugged windblown slopes on the left while, to the west, the Tasman Sea is just metres away.
A motor camp just past the Awakino Tavern offers a serene stopover, with unimpeded views of Mt Taranaki past long black shores of the beach in the foreground.
An hour away is New Plymouth with its waterfront walkway, brilliant wind wand and Puke Ariki museum, explaining the region's often painful history (Taranaki had two wars during colonisation and an ethnic cleansing campaign at Parihaka).
Within walking distance of this well-organised downtown area are many good cafes, bars and restaurants, as well as the Govett-Brewster art gallery.
Keep driving south on Surf Highway 45, and turn off to admire the gnarly, rock-strewn surf breaks dotting this wild coastline. Some weekends are as much about the journey as the destination - Taranaki offers both.
IF YOU GO
What to do:
* Hit the beach - Kaupokonui Beach has a surf reef and sandy beach, and Oakura has one of the best holiday parks in the country, right on the beach.
* Discover history -Tawhiti Museum is a highlight at 401 Ohangai Rd, Tokaora, phone (06) 278 6837. Check ahead as opening hours are limited and seasonal.
* Smell the flowers Pukeiti Gardens are open year-round in a vast 360-hectare rainforest, south of New Plymouth. Established in 1951, the gardens contain many walks, a cafe and organised tours. Phone (06) 752 4141 or email pukeiti@pukeiti.org.nz. The Taranaki Rhododendron and Garden Festival is held annually in New Plymouth; this year from October 28-November 6.
* Walk Mt Taranaki Trek to the top or do one of many day walks. Trails are well-posted with maps from visitor centres. Mountain access is from three main sights, Dawson Falls, Stratford, and Egmont Village. Maps, track conditions and walking advice are all extensively detailed online at: www.doc.govt.nz and look up Mt Taranaki.
Where to eat: Waiau Estate Cafe & Winery, 19 Onaero Beach Rd, Urenui, just north of New Plymouth, phone (06) 752 3609. It has a great children's menu as well as a la carte dining and casual food. The views of the coastline are outstanding.
Where to stay:
* Seaview Holiday Park, SH3, between Awakino and Mokau, ph (06) 752 9708. Right on the coastline with outstanding panoramic views of Mt Taranaki, this sheltered holiday spot is family- and pet-friendly (pets by arrangement).
* Oakura Beach Holiday Park, 2 Jans Tce, ph (06) 752 7861. Prices from $18 per person per night for camping to $65 per person per night upwards for a shared cabin. Just 15 minutes' drive south of New Plymouth, this beachfront campground has breathtaking views. It's immaculately clean, there are handtowels and soap in the bathrooms, and fresh herbs grow by the kitchen for guests to use. Cabins are new and comfortable.
How to get there: New Plymouth is about a four-hour drive from Auckland on State Highway 1 to Hamilton, then State Highway 3. The road is windy and hilly but in good condition. Air New Zealand operates daily flights between New Plymouth and Auckland, from $69 per person.