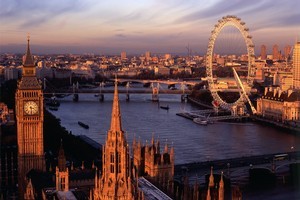 With all due respect to Dr Samuel Johnson who said, "When a man is tired of London he is tired of life," he was speaking before the chaos of modern life: Tube delays; pubs with pokie machines and football on giant flat screens; young bankers with a few lagers in them who think they are East End 'ard men... It's possible to be very tired of London. That said, no journey through life is complete without having engaged it. But with what? Here are some suggestions.
The Thames
Most people go over it or under it, but this waterway is the life of the old city. On a sunny day take a trip from Westminster Millennium Pier down to Richmond (get off at Kew and go through the gardens before getting a bus to Richmond) and have your camera ready. The commentary is full of historic information as well as pointing out the apartment Robbie Williams owns and the spot where the Beatles filmed a famous scene for Help!. At Richmond have a pint in a riverside pub then walk along the bank to the nearby Petersham Hotel for dinner. Historic, great views, superb food, and the place where Mick Jagger was photographed having lunch in 2002 when it was announced he was to be Sir Michael.
If it's good enough for Mick... As a day trip this can't be beat, and a taxi will take you to the Richmond Tube station for the trip back into central London.
The O2 CentreFormerly the ill-fated Millennium Dome on the Greenwich Peninsula, this massive structure - in increasingly interesting surroundings as apartments and sculpture pop up around it - is worth a day trip. The centre is home to the British Music Experience; display cases start at the end of the jazz era and move through the skiffle craze of the 50s. Each decade gets its own room with interactive historical sections, posters and clothing, instruments and music. Here are David Bowie's handwritten lyrics to Five Years from the Ziggy Stardust album; guitars owned by Pete Townshend and Coldplay's Chris Martin; clothes belonging to Spice Girls, Jimi Hendrix and Ringo Starr.
Whitechapel Gallery
In a city full of great galleries this one stands out, not just for the $32 million expansion it recently underwent, but more for the contemporary art on the walls and its history. (Picasso's Guernica was exhibited here 50 years ago and currently an astonishing tapestry of the same is on display). The superb Dining Room where top chef Maria Elia has won wide acclaim (fours stars from AA Gill in The Times) is a must for lunch. The gallery is beside East Aldgate Tube station and Brick Lane is just around the corner. See the art in the morning, have lunch in the gallery restaurant then amble through Brick Lane with its hip bars, old pubs and funky shops (genuine vintage clothing from the days of Flappers, Teddy Boys to Swinging London).
The Globe Theatre
If this isn't on your agenda, put aside bad memories of Shakespeare at school and come for a fascinating guided tour through this replica of a theatre from The Bard's time. There's an excellent museum of artefacts and costumes as well - and you are right next to the Tate Modern if you want to be swept up four centuries. For a small donation at the Tate you get to see some of the most cutting edge art of the 20th and 21st centuries, and the massive building is a stunner. Save some money for The Globe's gift shop where you can buy an "out damned spot" blood-splattered tea-towel, the "hoods make not monks" Henry VIII hoodie and a calendar of Shakespearean insults. Never knew Shakespeare could be so much fun, huh?
Go to Brixton
Multiculturalism doesn't get much more fun, rowdy and interesting than this suburb south of the river. Wander through Electric Avenue (left when you come of the Tube), poke your nose into old pubs or record shops run by dreadlocked Black British from the Caribbean, or shops full of Indian saris, religious paraphernalia and food. Have a genuine Caribbean meal of goat curry, jerk chicken, or the Jamaican national dish of ackee and saltfish at Bamboulas. If you dare, have a Guinness Punch (Guinness, condensed milk, cinnamon and nutmeg). Get the 139 bus back to central London, through suburban Brixton and Kennington, across Westminster Bridge by the Houses of Parliament, past Trafalgar Square, Horse Guards' Parade, Trafalgar Square and Piccadilly Circus... You'll see London's diversity out the window.
If you tire of that, you probably are tired of life.
CHECKLIST
Thames Cruises is at thamescruises.com/
The Petersham is at petershamhotel.co.uk
Whitechapel Gallery is at whitechapelgallery.org
Shakespeare's Globe is at shakespeares-globe.org
The O2 and British Music Experience is at theo2.co.uk and britishmusicexperience.com
Bamboulas in Brixton is at bamboulas.net
Walks in London is at londonwalks.com