Over the next few weeks we'll be profiling some of the country's coolest, most unusual baches available for rent.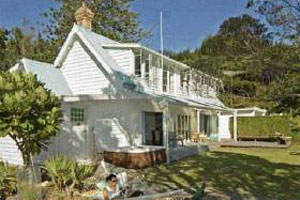 Where: Schoolhouse Bay, Kawau Island
What: The original Kawau Island schoolhouse is a fantastic, restored, two-storey wooden bungalow, built in 1870 by Sir George Grey, on the water in Schoolhouse Bay. It has six bedrooms and two bathrooms and can sleep up to 14 people, making it perfect for holidays with the extended family or groups of friends.
There's a spa pool and the whole site is fully fenced to keep kids safe from the water. Schoolhouse Bay is also a perfect spot for messing about in boats.
Getting there: Ferries to Kawau depart daily from downtown Auckland, and there are regular ferries or water taxis from Sandspit north of Auckland.
While you're there: Kawau is one of the larger islands that make up the Hauraki Gulf, about 8km off the coast, 45km north of Auckland.
Aside from boating, fishing and swimming, Kawau Island is a fantastic place to take some leisurely walks to different swimming spots, the ruins of the island's former copper works and through the cooling, statuesque redwood and native forest. There are native and exotic birds to spot, and the famous Mansion House, built by Grey, to visit. There's also a cafe, near Mansion House, open on weekends.
Bach link: bookabach.co.nz