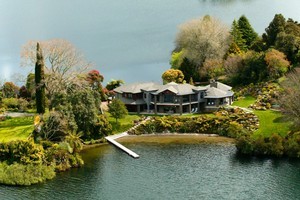 First it was one of the top 10 places to propose. Now Rotorua's Lake Okareka Lodge has gone a step further and been named one of the top 10 honeymoon destinations in the world.
It is ranked among the top with hotels from France, Italy and Dubai.
Australian website hotelscombined.com compiled the Top 10 Honeymoon Destinations from a range of hotels from 220 countries around the world and Lake Okareka Lodge was placed at number 6.
In January this year, the lodge was also named one of the top 10 places to propose by the same website.
Manager of Lake Okareka Lodge Diana Moore said she was thrilled the lodge was on the list alongside such good properties and locations.
"I'm absolutely over the moon."
Other hotels on the list include the Four Seasons Hotel George V in Paris, the Mystique Hotel Santorini in Greece and the Burj Al Arab hotel in Dubai.
HotelsCombined business development manager Vicki Byrne compiled the top 10 destinations.
She said she looked at reviews for hotels as well as what country destinations would be great for honeymooners, then looked at what accommodation would be suitable.
Relaxation factor was a high priority when choosing honeymoon hotels, she said.
Ms Byrne said they chose Lake Okareka Lodge because of its secluded location.
"It's on its own and in a natural surrounding, which gives couples somewhere to escape."
She said it was great how couples could be as relaxed or as adventurous as possible, with the option of using kayaks and jet skis.
"I imagined it like a James Bond movie," she said.
Ms Moore said the lodge was quite popular with honeymooning couples.
"We've had quite a few couples in the last couple of years."
She said she thought the location at the end of a small peninsula in Lake Okareka was a key reason for being chosen as a honeymoon resort by HotelsCombined.
"I think we are quite popular for the fact that we are set in an idyllic location which is secluded and bush clad."
She said the best suite, Lake Okareka Suite, had views of the lake from both sides, and there was no mobile phone reception meaning people could get away from it all.
The lodge has only three suites, with a maximum of nine guests being able to stay at one time.
Ms Moore said she was pretty confident the lodge's inclusion in the list would help attract more overseas guests.
She said the majority of guests to the lodge were from overseas.
Right now, the lodge is in its busy season and Ms Moore had had a number of inquiries recently from places like Russia and India.
However, only a small percentage of guests were from New Zealand, she said.
She thought this was because of the cost.
"We are at the top end in terms of prices and rates."
For more articles from this region, go to Rotorua Daily Post