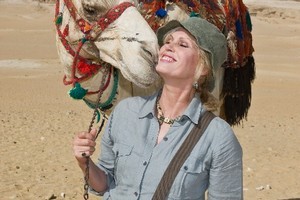 Hell, but don't you need a holiday? As this long year draws to an end - and 2010 does seem to have been an awfully long year - we all know we deserve a lovely long break. Even if we can't quite afford to go anywhere but home.
Still you don't need to travel to, you know, travel. Which was why, on Sunday night, I put down my book and put up my feet to take a lovely break in a part of the world I've always wanted to go: Egypt, home of the grand and ancient river Nile.
The very name Nile conjures up riddles, Belgian detectives, jewels and, best of all, pyramids. I've always wanted to see the pyramids of Giza, to visit the temple at Luxor, to cruise the Nile while sipping long pink gins ... So you can imagine my excitement at the very thought of travelling the Nile with that fragrant creature, and very probable imbiber of pink gins, Joanna Lumley.
As it turned out, the first leg of her four-part tour called, rather obviously, Joanna Lumley's Nile (TV One, 7.30pm), was, well, a little too "package tour" for me.
It turns out that Ms Lumley, while fragrant, is an enormously gushy sort of guide. "Join me..," she gushed at the start of the programme, "... stay with me; you'll feel foolish if you don't." Foolish if you don't, yes, but also rather tired if you do - and not just because she has to cover more than 4000 miles in four episodes to reach the source of the Nile.
If the first episode is a measure, this was partly because, rather obviously, she and the programme have to cover so much ground (and water) at break-neck speed; last Sunday she went from the mouth of the Nile to Alexandria to Cairo to Luxor to Aswan - more than 700 miles. And partly because Ms Lumley turns out to be just so terribly jolly-hockey-sticks about going up the Nile.
Now, of course, enthusiasm is no crime. As it happened, I came across a repeat of Michael Palin's Himalaya at 8.30 the same night on the Living Channel. Mr Palin, let me assure those who have never seen him, is enthusiastic.
On the high plateau of Tibet he enthused about making yak butter. He enthused about yaks. He enthused about yak herders. It was just that he wasn't quite so, well, arch in his enthusiasm. He wasn't quite so Patsy.
Still Patsy's tour is pleasing enough to the eye - the Nile is utterly beautiful - and, occasionally she is pleasing to the ear. I thought she absolutely knew what she was doing when she described leading a camel called Charlie Brown through a narrow Cairo street thus: "It's so soft, it's just like ... leading a cloud behind you." But then, a little later, she said "I could stare at the [Nile's] river bank forever, dreaming of life as an ancient Egyptian" - which, I'm sure we'll agree, is an unconscionably naff thing to say while sitting on a boat on the Nile staring at the river bank.
I shall stick with Lumley's Nile however. It reminds me, God help me, of the way TV One used to be. Indeed last Sunday night was like some sort of throwback to when TV One was a channel worth watching - well, for old farts like me.
Lumley's Nile was immediately followed by The Road to Coronation Street, a shortish, beautifully rendered dramatisation of the possibly mythical beginnings of the longest running soap on British television. Now I have to say that Corrie St and I have been only sometime bedfellows - which is to say I was once an addict, but am no longer.
But what a yarn! The story of how a failed, 23-year-old gay actor by the name of Tony Warren blagged his way into Manchester's Granada Television, convinced the powers that he was a writer and was then allowed to write, against the cold, prevailing populist gale, a show that spoke with a human voice, was, well, rather more than inspiring.
Makes you wonder what TV One itself - or should I say TVNZ - might do if they hired people who wanted to tell stories for adults rather than make programmes to please those advertising to the young and enfeebled.
-TimeOut