Roger Hall cruises the Baltic and relishes his time in fascinating ports of call without having to think about about much else.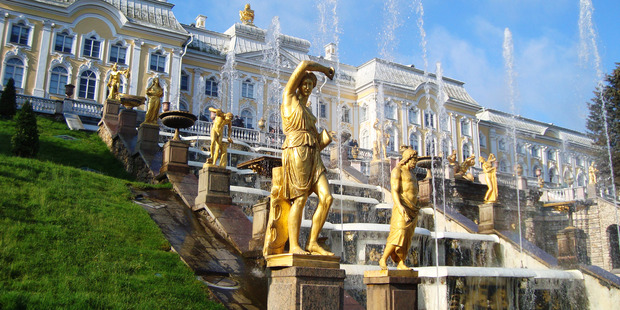 It must be one of the longest escalators in the world. It was so long that some people were reading books on the way up. The escalator was taking us down to a station on the St Petersburg Metro, a ride on it being part of our three days of sightseeing of the city. I would have taken photos, but the Metro is considered a military installation, so it was "nyet" to cameras.
The stop we got off at was Pushkin, dedicated to one of Russia's favourite literary sons. He is commemorated by more than just a name. There is a shrine to him: a stylish statue with an elegant backdrop, flanked by pillars. At the base of the statue were several bunches of flowers.
It seemed almost too good for an urban transport system. Our guide said "Why should not the workers have something fine to travel on?" One had to refrain from pointing out the number of workers who were killed building such Metro systems.
The guide in question was the elegant and beautiful Oksana, late 20s, who escorted eight of us around St Petersburg and nearby attractions for three days.
We were in St Petersburg on a Baltic Cruise, but we were not on one of the cruise-organised land trips. If we had been, we would have been in a much bigger group and it would have cost us twice as much. By going independently we saved more than US$400 ($508) dollars each.
Of course, we saw a lot more than the Metro in our three days: a full morning at The Hermitage (and paid US$15 extra to go before the crowds, worth every cent); the Peter and Paul Cathedral; the Church of Spilled Blood; Catherine's Palace; a food market (ho-hum); Nevsky Prospect; a canal cruise; and a drive to Peterhof Palace with numerous fountains in its gardens, followed by a ride back to the city in a hydrofoil on the Gulf of Finland.
One of the big advantages of going on a smaller liner (600 passengers rather than 3000) is that it can berth right in the heart of St Petersburg on the Neva River. Bigger ships berth at the port which means a 40-50 minute ride to get to the city. Most of the ports we berthed at were within walking distance (or a short bus ride) to where we wanted to go.
This was the first cruise we had taken. Our travel agent had described this particular cruise with Oceania as the "best holiday he had ever had" (and travel agents do a lot of travelling).
Was it the fact that you could get coffee and croissants at 6.30am in the panoramic Horizon Lounge? Or the full breakfasts ("a cornucopia of hot and cold items" ) either from a buffet on deck level, or full linen service in the dining room?
Most days we were ashore for lunch so perhaps it might have been the afternoon teas? Sitting in the lounge, a string quartet playing in the background, a trolley laden with delicate sandwiches that a bloke can consume in a single gulp, followed soon after by another trolley with exquisite little pastries. This tided you over until dinner.
At the Grand dining room, it was like eating six courses at The French Cafe every night (but on board the helpings were bigger), with a choice of two other eating places, The Toscana (gourmet Italian) or The Polo Grill (New York steaks).
No wonder Oceania has been voted the cruise line with the best food.
No need to put on a dinner jacket in the dining room. The dress code was "country club casual".
We'd held off cruising for years. Partly because we thought they were for older folk than us (alas, no longer true, cruise passengers have suddenly got a lot younger), but mostly because my wife gets seasick.
She was subjected to lectures on the fact that modern ships have stabilisers and that in the summer the Baltic is rarely rough. She succumbed (she had to). We had one slightly choppy day and thus had to endure using room service for dinner that evening.
Cruising can be a pricey business, but at least the fare included the 18.5 per cent gratuities for cabin staff and waiters, so at the end of the trip there was none of the "How much do we give them?" stress (though many people do tip additionally).
But the 18.5 per cent was added on to any extra service you had on board. Including wine. Especially wine. And the wine was very expensive. A modest New Zealand wine was US$30 (plus the 18.5 per cent) and most wines were considerably more.
We solved this problem by bringing on board duty-free wine and spirits and having drinks with our friends each evening before dinner. (Sort of BYO but you'd drunk it beforehand.) And we did indulge in wine for some meals. (Note: Not all cruise lines allow you to bring on board your own wine or spirits.)
Ah, but of course, we didn't go for the food or wine, we were on the cruise for the ports of call.
There was Helsinki, a pleasing city full of elegant shops and fine examples of modern Scandinavian architecture: the Finlandia concert hall, and the opera house.
Next was the highlight and principal drawcard of the tour: St Petersburg. (We had three days there but on one of those days you could do a 16-hour trip to Moscow.)
At Tallinn, in Estonia, it was a short walk from the ship into the heart of the city. It's a Unesco World Heritage site, a delight. Oh the Europeans know how to create graceful buildings that combine harmoniously and are beautifully decorated.
The only ship's tour we went on was at Gdansk, because it was some distance from the port. Flattened in World War II - indeed, this is where the first shots were fired - Gdansk is now meticulously restored to its pre-war glory.
As well as being a place to buy amber, it is also where Lech Walensa stirred up unrest in the dockyards which led to the fall of Communism (the Domino Theory turned out to correct; it just happened that it was the Communist countries that fell like dominoes.)
On to the "wonderful wonderful Copenhagen" Danny Kaye used to sing of. Indeed it was, and here, of course, is the snag of cruising: you get a sampler of each place and, though it is amazing how much you can cram into a few hours, Copenhagen, as with most of the other ports of call, deserved a longer time than we had. There was time to visit the Art Gallery and Museum and go round the city on the hop-on hop-off bus to see (among other sights) The Little Mermaid.
Warnemunde was a port intended for most of the passengers to have a lengthy day trip to Berlin. Those who didn't go could have a relaxed day on board, potter around Warnemunde itself, or take a 15-minute train ride to Rostock.
It took a few hours the next day going through Kiel Canal en route to Amsterdam. The Kiel Canal, built for military purpose by Kaiser Wilhelm, is flanked by meadows and villages, only a few metres on either side of the ship, and cheerful locals wave to the passing liners.
Amsterdam must surely have been well covered in these pages to require no more than a customary rave, and finally Bruges, a medieval gem. If you want a cheap trip to Bruges, hire the DVD of In Bruges and you can see it all, with a few bodies thrown in as well.
Finally to the grey cliffs of Dover and our two weeks were up. A touring holiday seeing some of the great places in Europe without ever having to pack or unpack: I'd go back on board tomorrow.
CHECKLIST
Cruising: Oceania Cruises sail all over the world, catering to those who prefer a smaller ship (600 passengers).
For details of private tours in St Petersburg go to spb-tours.com. They can arrange an itinerary to suit your needs. Our guide spoke excellent English. For three days of sightseeing plus a folk concert in the evening we were charged US$415.
Roger Hall paid every cent himself.