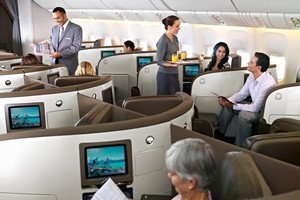 Airlines flying into New Zealand look to be bucking a trend that has seen many Northern Hemisphere carriers reducing the number of first-class seats on offer during the global recession.
The start of the financial crisis in 2008 saw first-class and business passenger numbers "pull back sharply", particularly on short- and mid-range flights to destinations such as Asia, House of Travel spokesman Brent Thomas told the Herald.
However, from about the start of this year, corporations have begun to come out of their shell and are again looking to their clients overseas. That means more bookings for better seats.
Air New Zealand, while reluctant to give specifics - citing commercial sensitivity - announced earlier this year it was expecting "dramatic growth" in the numbers flying premium economy.
The airline did away with first-class in 2004, replacing it with Business Premier and Premium Economy - the latter proving itself to be "recession-proof".
"While the nature of our long-haul sectors has leant itself to selling the added space and service of Premium Economy, none of this has come at the expense of Business Premier, which offers one of the longest beds in the sky," the airline said in January.
Further improvements are planned, with the number of premium economy seats almost doubling in the past five years.
The new Boeing 777-300s, due to start flying in January, will see another 12 seats added to premium economy, bringing the number to 50.
Singapore Airlines' passenger marketing manager, Murray Wild, said the carrier still offered first, business and economy class seats on the majority of its services.
The airline - which flies 19 times a week from Auckland and Christchurch - had introduced a fourth class, suite class, which was a level of comfort "beyond first" on its A380 aircraft, he said.
"There's still a lot of people around, despite the financial crisis, who are prepared to pay for that extra bit of luxury."
Emirates also seems to be maintaining the number of first and business class seats on offer.
"The number of seats provided varies only by aircraft type - at present, Emirates offers 14 on the A380, 12 on the A340-500 and eight on the Boeing 777 300ER," spokesman Robert Wallace told the Herald.
"Emirates has 76 business class seats on the A380 and 42 on both the Boeing 777 and A340."
Fluctuations in demand had so far had little effect on the airline, and there had been no need to change cabin configurations, he said.
In the Northern Hemisphere, premium traffic in August was still 11 per cent down on early 2008 - despite recent signs of an upturn.
Premium traffic on international flights - which includes business and first class - fell 16 per cent in 2009, it said.
Australian carrier Qantas is the only one apparently lagging.
It announced earlier this year it was eliminating first class service on most of its long-haul flights except for a few flagship routes to Los Angeles and London from Australia, USA Today reported.
AT THE SHARP END
One adult return to London
* Air New Zealand (Business Premier): $13,100 / leather armchair-bed with ottoman / your own pillow.
* Emirates (First Class): $13,640 / private suites on certain aircraft, include lie-flat beds, wide-screen TV.
* Singapore Airlines (Suite Class): $16,668 / separate compartment containing hand-stitched seats, standalone bed (A380 service).
* Qantas (First/Business): $14,100 / Qantas "skybed".
*all prices subject to change