Britain's maestro of molecular gastronomy is just as good at pub grub, finds Rob McFarland.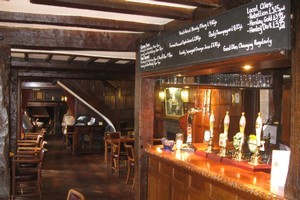 Few cities, let alone villages, can boast two restaurants awarded three Michelin stars, but the quaint 16th-century British hamlet of Bray near Windsor is a veritable cauldron of culinary creativity.
Not only is it home to The Waterside Inn, Michel Roux's multi-award-winning restaurant that has received three Michelin stars for an astounding 25 years running, but just round the corner is Heston Blumenthal's equally well-known The Fat Duck.
Blumenthal is famous for his molecular gastronomy - a process whereby ingredients are matched according to their chemical make-up. It makes for some unusual pairings - on his tasting menu you'll find snail porridge, salmon poached in liquorice and egg and bacon icecream.
Not that the critics are complaining. The Fat Duck was named best restaurant in the world by Restaurant magazine in 2005 and came second in 2006, 2007, 2008 and 2009.
The problem, of course, is that you can't just pitch up to either of these establishments and expect to get a table. They're booked out for months in advance and there is the matter of the cost - The Waterside Inn's tasting menu costs £140 ($287) and The Fat Duck's is £160.
Fortunately, there's an alternative. In 2004 Blumenthal took over the Hind's Head Hotel, a 16th-century Tudor-style inn a few doors down from The Fat Duck, and has created an award-winning venue that is true to its village pub roots. You won't find savoury icecream on the menu, but you will find traditional British dishes that date back to Tudor times.
We're staying at the historic Mercure Castle Hotel in Windsor, which enjoys an enviable position opposite Windsor Castle. From here, Bray is a 10-minute drive or - even better if you want to justify an indulgent lunch - a picturesque 10km walk along the Thames towpath.
On a whim, we phone the Hind's Head the day before and enquire about the possibility of a table for six for lunch. Not a problem, comes the reply.
We arrive to discover a quintessential English pub with low, exposed beams and oak-panelled walls. A large fireplace dominates one end of the bar and there are cosy alcoves with high-backed leather chairs.
We sit in the main dining room, which, despite accommodating 60 people, manages to retain a pub, rather than restaurant, feel. Upstairs are two further dining areas: The Vicar's Room, which can accommodate 22, and The Royal Room, which can hold 50.
The pub has significant royal connections. The Queen hosted a coach-load of European royalty for lunch here in 1963 and it was the venue for Prince Philip's stag night in 1947.
The menu is a simple one-page affair and the food is surprisingly affordable given its culinary heritage. Starters range from £6.35 for pea and ham soup to £12.50 for six Colchester oysters, while mains range from £12.95 for pork sausages with mash and caramelised onion gravy to £19.50 for a 250g rump steak with bone marrow sauce and triple-cooked chips.
It might sound like traditional pub grub, but Blumenthal worked closely with the kitchens at Hampton Court Palace to include British recipes from more than 500 years ago.
We order a selection of dishes, as well as a bottle of ... wait for it ... English wine. It's one of two on the menu, both from Kent producer Chapel Down, and it seems an appropriate choice given the setting.
Of the starters, the hits are the south coast crab on toast and the goat's cheese, onion and red-pepper tart. The chunks of succulent crab are served in a rich, creamy sauce, while the tart's pastry is deliciously light.
We also order items from the snacks section and, even here, the attention to detail is impressive. The devils on horseback might look like the old favourite of a sausage wrapped in bacon on a stick, but in fact it's a prune that has been soaked in Armagnac and stuffed with chutney. Similarly, the Scotch egg doesn't look much different from one you'd buy at the supermarket, but it's actually a quail's egg surrounded by delicious peppery sausage meat that's served hot and oozes warm yoke.
For my main, I opt for a Hind's Head speciality, the Lancashire hotpot. It arrives sizzling in its own miniature cast-iron pot and, after piercing the thin layer of golden-brown potato, I find a gorgeously gamey stew of lamb, bacon and oysters. My dining companions are similarly impressed with their respective dishes of Suffolk free-range pork chop with mustard mash, skate wing with lemon and parsley butter, and pork sausages with mash and caramelised onion gravy.
The accompanying side dishes of triple-cooked chips and broccoli with anchovies and almonds are both dangerously moreish, but perhaps the biggest surprise is the wine - Chapel Down's 2005 Bacchus Reserve is light, fruity and undeniably good.
We're all too full for dessert, which is a shame because I was keen to try the Eton mess - a traditional pudding first served by the Eton College tuckshop back in the 1930s.
Blumenthal has gone back to basics at the Hind's Head and in doing so has hit on a winning combination: affordable, high-quality food served in a relaxed, welcoming venue. If you can't get a table at the second-best restaurant in the world, don't worry - salvation is just down the road.
IF YOU GO
Details: Hind's Head Hotel, High Street, Bray, Berkshire SL6 2AB. Lunch and dinner served daily. Phone +44 1628 626151 or book online.
Getting there: Virgin Atlantic flies daily from Sydney to London via Hong Kong.
Staying there: The historic four-star Mercure Castle Hotel is a two-minute walk from Windsor Castle and enjoys spectacular views of the changing of the guard. Phone +44 1753 851577. Nightly rates start from £130 ($267). For more information, see visitbritain.co.nz.
Rob McFarland was a guest of Accor, Visit Britain and Virgin Atlantic.