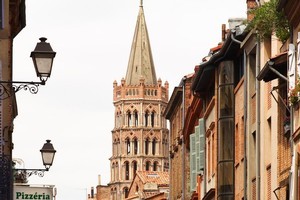 My husband and I are holidaying in Bezier, France and need to be in Venice less than a week later for a cruise. We would like to spend 2-3 days in Venice and wondered the best way to get from Bezier to Venice but without hiring a car to drive there. We have thought about flying back to England and back again to Venice but you may suggest an easier way.
- Gill Milton
Shawn Low, Travel Editor (Asia Pacific) writes:
Flights are probably the most efficient way to go and you can go from Beziers go to Bristol or Luton in England. Those towns won't set the world on fire so perhaps consider moving straight on to Venice and spending your full time there.
Otherwise, there are also flights from Beziers to Stockholm and Dusseldorf. You could consider spending a day or two in Stockholm before flying to Venice. Stockholm's highlights are the medieval elements as well as cutting-edge design, fashion and of course great food.
Dusseldorf also has that fashion element, pleasant walks along the Rhine and also some old-style pubs to knock back a brew.
If you do want to take a train back to England, the TGV and TER lines will take you through Nîmes, Montpellier, Toulouse en route to London. Toulouse, France's fourth-largest city, will provide ample sights, and great buzz thanks to its large student population. If you do book budget flights, the earlier the better. Have fun.
Pretty views to peddle past
We are planning to go to Germany and want to cycle part of the Elbe River cycle route for about four days. Which is the prettiest and most interesting part of the route in terms of villages and towns, Dresden to Magdeburg, or somewhere else?
- A Talbot
Shawn Low, Lonely Planet's Asia-Pacific Travel Editor writes:
Well, you seem to have answered your own question: Yes, the Dresden to Magdeburg route suits perfectly. In your case, you'll be travelling 320km over four days.
From Dresden, head to Bad Schandau then head on towards Meissen stopping via Radebeul, famous for wine and the writer Karl May.
From Meissen, start heading to Riesa and then to Torgau. En route to Torgau (filled with Renaissance charm), you'll pass through Strehla and then Belgern. From Torgau, head towards Wittenberg (famous of course thanks to Martin Luther).
From Wittenberg, it's off to Dessau. Cross the Elbe to get to Coswig and on to Wörlitz. The region is home to the Unesco heritage-listed Garden Kingdom of Dessau-Wörlitz.
Move on toward Schönebeck passing through Barby along the way. You're not far from Magdeburg at this point. From Schönebeck, you'll pass Pretzien before hitting your final stop.