The ruins of a huge 1870 woolshed show settler skills, writes Don Donovan.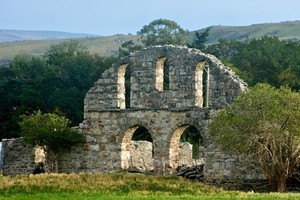 The stone ruins sit in a Central Otago paddock like the remains of some medieval castle. But this massive structure was built not for armoured knights but woolly sheep.
The great stone walls are all that remains of the huge woolshed erected in 1870 at Teviot Station, on the north bank of the Clutha River, between Millers Flat and Roxburgh.
It was the first large sheep run taken up in Central Otago, granted to John Cargill who later partnered with his son-in-law, E. R. Anderson, to work its land that comprised of more than 29,000ha.
The most visible remnants of the station are the stone walls of the woolshed, a remarkable construction considering it was was built in a relatively remote part of New Zealand only 30 years after the Treaty of Waitangi was signed.
At 137m long and 45m wide, it is about the size of a rugby pitch and could hold more than 8000 sheep.
Rumour has it that the woolshed was first formed as a railway station in Britain, but as the surviving ruins are of local schist one can assume that perhaps some parts, perhaps long-gone roof trusses, came from afar.
Like so many historic buildings - especially pubs - the woolshed was destroyed by fire.
It burned down on November 11, 1924, in circumstances subject to yet more rumours: one story hints at arson by disgruntled and envious neighbouring farmers; another talks of a carelessly discarded cigarette.
An interesting additional bit of history: the first phone call made in New Zealand was between the Roxburgh Post Office and Teviot homestead.
It was made some time in 1877 via a set of phones given to Cargill by Alexander Graham Bell when they met in Britain in 1876.
The planned cycleway, the Clutha Gold Trail, will pass through the Teviot valley when it opens in the next year or so. Meanwhile, the Teviot Woolshed remains are accessible by road and just 12km from Roxburgh.
CHECKLIST
Further information: To find the woolshed, from Roxburgh cross the Clutha River and turn right along Teviot Rd; turn left up Loop Rd to Smith Rd; you'll see the woolshed ruins are across a paddock in the fork of the two roads.
See newzealand.com for more information.