Even novices can get amongst excitement of harness racing, says Joanna Davies.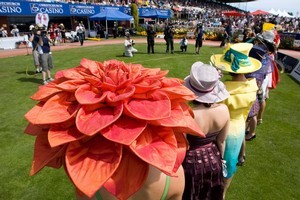 Wearing blue silk racing colours and wishing there was a spare pair of gumboots I could wear, I climb into the stalls with a chestnut brown trotter, officially known as Megapower, hoping to establish a good relationship.
I'm about to try my hand at driving a trotting sulky, racing round a dirt track at 50km/h, competing for pride - and Megapower's goodwill could be crucial to a successful outing.
With all the quakes, you might think there's quite enough action in Christchurch at the moment but the city is determined that its annual social and sporting highlight, New Zealand Cup and Show Week, which starts on Saturday, will be more exciting than ever.
And there's surely no better way to prepare for an event which includes the New Zealand Trotting Cup - as well as the New Zealand Cup and the Canterbury A&P Show - than trying it out yourself.
Hence my partnership with Megapower, a horse who never quite enjoyed the racing success that was expected of him, so these days gets to run around the track every few days with novice drivers like me.
Horsepower Experience in Christchurch is the only place in New Zealand that lets anyone get in the driver's seat of a sulky and taste the excitement of harness racing.
"We get a lot of people who come here who have never ridden a horse before," says director Lindsay Kerslake, who came up with the racing experience idea when he worked in Canada.
"An American lady asked if she could give it a go, but she was always told she couldn't because she hadn't done it before. I thought there had to be a market for something like this, a way to bring racing back to the mainstream."
Megapower waits patiently as his driver, Amber Jenkins, helps us put on the bridle and other bits and pieces needed for a successful harness race. "The horses can get up to 50km/h around the track and [Megapower] gets the best of both worlds," she says. "He still gets to race around but he doesn't do as much training as he used to."
And he obviously does like to race, nearly making a break for the track before Amber gets on the sulky, and once we're aboard he takes off at a brisk trot.
After a few laps of the 800m track the horse is warmed up, so I loosen the reins a bit to let him go faster. Weehaa. We seem to be flying. We're certainly going fast enough for dirt to flick up from the track into our faces.
Then it's time to line up at the start to race against two other sulkies. Our main threat, it seems, will come from Randy Andy, a trotter with quite a few wins to his name, who is foaming at the mouth with excitement.
For the first two laps we lead, with Randy Andy dribbling over our shoulders but failing to pass, and I start to dream of victory. But in the final 800m Randy Andy sneaks past and takes first place.
I can't really complain. I figure coming second in my first harness race is a good result. And it's certainly given me a new respect for the top drivers who'll be on show in the trotting cup.
"New Zealand was founded on three things," says Lindsay. "Rugby, racing and beer." And Cup and Show Week, the biggest event on New Zealand's racing calendar, is a great chance to experience all three - and to enjoy lots of fine food, great art, top fashion and terrific entertainment.
From November 6-13, Christchurch is putting on plenty of events to show visitors the city is open for business and ready for fun, in spite of the earth tremors.
For the fashionistas, Ballantynes department store is offering free styling workshops for those who want to look the part.
As the official fashion partner for the week, the store has help on hand to find the right dresses and, most importantly, the right hat to wear during the races' best-dressed competitions.
Most of the city's shops, restaurants and bars are open, despite all the shaking.
At the Bangalore Polo Club the atmosphere is upbeat as people meet for after-work drinks and a meal. "People are starting to cheer in here when there's a big aftershock," says manager Alan Forsdick. "We are all trying to carry on and bring people back into the city again."
The restaurant, which is themed as the club house of a fictional polo team, got through the quake with little damage: a few smashed bottles were the biggest casualties.
At C1 Espresso, where the cafe staff were made famous by the security footage of them escaping the building during a big aftershock, owner Sam Crofskey says people are starting to return to the city centre. "We were closed for two weeks but we're busy again."
A few streets are still blocked off and some shops are still closed, but the biggest disruption around the city centre is the road works for the new tram tracks, which should be ready in time for the Rugby World Cup next year.
In the cultural district, you have to look harder to find the damage. Aside from the races, the biggest draw card to the city is the Ron Mueck sculptural exhibition at the Christchurch Art Gallery, a short walk or tram ride from Cathedral Square. His extremely detailed sculptures, including one of a larger-than-life newborn baby and small dead man, have drawn emotional responses from many who have visited the show.
Christchurch is the only centre exhibiting Ron Mueck's work, a testament to what senior curator Justin Paton calls a growing cultural awareness in the city.
Further along the street in the old University of Canterbury buildings, the Arts Centre and its boutique gift shops are all open, even though the building has incurred an estimated $25 million of damage.
The historic Observatory tower is closed to the public, as is Rutherford's Den, the old workshop of New Zealand's most celebrated scientist. Parts of the old stone buildings are supported by bracing but this is not stopping visitors attending the Court Theatre or the on-site restaurants.
The locals are getting on with repairing their homes, most businesses are open and the city still has lots to offer visitors - including the chance to try your hand at harness racing or, if that's too much excitement, to cheer on the winner of the trotting cup.
CHECKLIST
Further information: New Zealand Cup and Show Week runs from November 6-13. Horsepower Experience has a website at horsepower.co.nz.
The Ron Mueck Exhibition at the Christchurch Art Gallery is on until 23 January.
You can find out about the Arts Centre in the historic University of Canterbury buildings at artscentre.org.nz.
* Bangalore Polo Club is at 136 Oxford Terrace.
* C1 Espresso has cafes at 150 High St and 5 Poplar Lane.
For general information about visiting Christchurch see christchurchnz.com.
Joanna Davies visited Christchurch as guest of Christchurch and Canterbury Tourism.