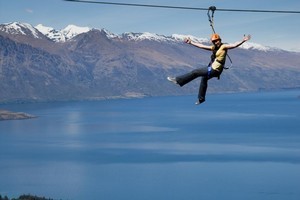 Hey there's Queenstown. Upside down. It's an unexpectedly excellent way to admire some of the world's most spectacular alpine scenery. The jagged, snowy caps of the Remarkables are pointing proudly upwards to the turquoise Wakatipu sky.
And then, with a simple swing of the legs, my world rights itself and my flying fox comes to land safely on a wooden platform high in the tree canopy on Bob's Peak, behind Queenstown - most famous as home to the Skyline Gondola and restaurant, luge and AJ Hackett's bungy.
Ziptrek Ecotours Queenstown, which is a Kiwi offshoot to a similar attraction at Whistler, Canada, starts from a wooden platform a short walk from the gondola station atop the peak. Think of it as a high-end tree house, or, from the point of view of the staff, the most scenic office in town.
There you are strapped into your climbing harness, helmet and gloves, and given the all-important safety briefing. Then your two-man guiding team leads you off to the first tree-top station.
And before you can think too hard about throwing yourself down some bottomless stairs from about 25m up in the trees, attached to what is, essentially, a piece of string, you're off.
Those fir trees whiz by and you shriek, squeal, spin and cackle your way along 200-odd metres of cable to arrive, breathless and giddy, at the second station.
Ziptrek is made up of four such flying foxes which zigzag their way down the hill over about two hours. Between rides, the guides regale visitors with lighthearted but interesting detail on local history, myths, legends and ecological principles. It's really all just punctuation between the screaming and hysterical laughter from punters as they whiz through the treetops with the greatest of ease. By the fourth run, the white-knuckle grip on your rope no longer seems necessary and nobody thinks twice about flipping themselves upside down or spinning, starfish-style, with hands and legs outstretched.
If there's anything wrong with Ziptrek's Queenstown experience, it's that you finish wanting more - though those demands should soon be met with the addition next month of two new, steeper flying fox runs which will take riders from the top of the hill to the bottom, leaving them unclipping their harnesses just a short stroll from Queenstown's CBD. But will they be too chicken to do it upside down?
IF YOU GO
* The four-line Ziptrek Ecotours tour takes about two hours and costs $119 an adult or $69 for children aged 7 to 14. The six-line tour costs $179. The price does not include your gondola ride up the hill and you should allow 20 minutes for the ride before your Zip Trek start time.
* All safety gear is provided, but you should wear comfortable clothing and closed-toe shoes suitable for being in the forest. Children must be accompanied by an adult.
Where to stay: Heritage Queenstown is located a few kilometres out of central Queenstown on the road to Glenorchy - which means no noise from the all-night party crowd and stunning views over Lake Wakatipu and Walter and Cecil peaks.
The stone-clad hotel has a fantastic outdoor pool as well as a hot tub and sauna; perfect for apres-ski - or anything - relaxation. The cosy MacKenzie Bar is a good spot to unwind and in winter is warmed by a huge open fire. Guests can dine at the Heritage's large restaurant or make the short trek back into town.
The CBD is a picturesque 20-minute walk along the lake edge, a five-minute taxi ride, or you can take the bus, which stops across the road from the hotel. Guests are given a free bus pass on check-in.
Heritage Queenstown has rooms from $169 a night, including breakfast for two, valid until November 30.
Getting there: Air New Zealand flies daily to Queenstown from Auckland and Christchurch. Ph 0800 737 000 for more information.