A haunted scream park in Franklin is not for the faint-hearted, writes Jacqueline Smith.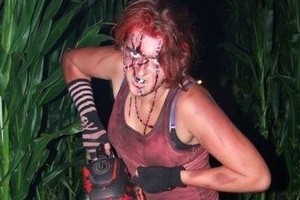 Was that Uncle Fester in the safety vest?" we asked as the bald man signalled us in the direction of the car park at Spookers.
The Karaka-based scream park is set in the blustery, Jane-Eyre-like surrounds of the old Kingseat Psychiatric Hospital. Society's misfits once walked the now-deserted brick buildings lining the driveway. It was more the thought of what happened to them behind those tattered curtains, than the thought of their psychopathic ghosts, that gave me the shivers.
My sister and I were greeted by a shrieking banshee dragging chains around her ankles who mocked our blonde skinniness and plotted ways to make us more delicious. My titter turned to a yelp when a ghoul moved out of my blind spot, hands hanging by his side, mouth gaping, eyes rolled back into their sockets. I walked to the dining room with him lurking somewhere behind my ear.
The banshee introduced me to a young chap with fingers protruding from his scalp - she said he was looking for a girlfriend. He sat slumped on the bench seat beside me, wet blood oozing from his wound, and stared as I shovelled peas on to my fork.
Banshee woman then screamed at my sister for not eating her shrimp.
Many of the 40-odd actors working over the weekend are studying or have day jobs - there is even an accountant. Dressing up in prosthetics and running long fingernails down strangers' backs in the dark is their creative release.
There are four attractions currently running at Spookers, and we tried them all. We began at Disturbia; a psychedelic, strobe-lit 3D maze that makes your eyeballs beat faster than your heart. It was the terrifying clash of chains on the wall somewhere around us that kick-started our screams and at one point I know I was on the ground with my sister with a monster leering over us.
Next came Claustrophobia, which is basically like squeezing your way between two fully-inflated bouncy castles that have been shoved into the back of a truck. You just have to trust your lungs as you shove yourself through. While this is not for those who have a genuine fear of tight spaces, the third member of our party maintained it was rather therapeutic.
Spookers is most famous for its haunted house, a macabre reinvention of Kingseat's old hospital. We were greeted by a possessed nurse, chased by a zombie with a syringe and terrified by an enraged man wielding a sickle. Some of the bloodied bodies are fake but others come to life when you least expect it.
In the end, it is the fear of being frightened that takes over, and I know our group gripped on to one another the entire way around like three atoms bound by cowardice. At one point I found myself cornered by a hit man so large he filled the corridor and I rebounded off him every time I tried to escape.
The final attraction was the forest, famous for its re-enactment of the Texas Chainsaw Massacre. And yes, as well as a very authentic Chucky hurling himself at us, and a prison escapee chasing us through the night, we came face-to-face with the masked murderer who held a running chainsaw above our heads.
It's an eerie location, and there are incredibly detailed sets and costumes but it's the almost infallible actors that make Spookers the escapist attraction that it is. What's good to know though, is that they don't take it too far. One ghoul did slip out of character when, in my jittery state, I stepped backwards and nearly caused myself some serious damage on a low-lying picket fence. "Oh, are you okay?" he asked, genuinely concerned. Yep! I said, jumping to my feet and skipping off into the woods "go on, scare me some more!"
Be there if you dare...
Where: 833 Kingseat Rd, Karaka. Take the Papakura exit and follow the signs.
When: Friday and Saturday as well as every Halloween from 8pm until late. Last entry is 10.30pm.
Restricted: R16, must bring photo ID.
Cost: $20 per attraction and $5 for Claustrophobia. Combo deals available For the kids: no-actor tours of the haunted house, an outdoor maze in the summer months, school holiday and birthday party packages.
Visit: See spookers.co.nz for more information.