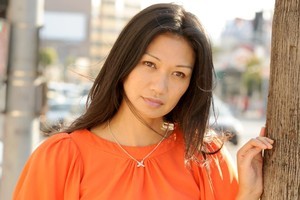 Do you travel light or heavy?
I'm a definite overpacker, but if anyone needs anything there's a good chance I'll have it.
Cattle or first class?
I have never flown first class but I have flown Air NZ Business a lot and the flatbeds are wonderful.
Are you a planner or last-minute packer?
I travel a lot but I still manage to get myself into a panic pack frenzy, just because I think I like the cheap adrenaline rush.
What's the best thing you've brought back from a trip?
Two semi-frightening but amazing wild boar hides from Prague and crazy memories.
Favourite or most exciting airport to land in?
I flew back into LA from Hawaii recently and hadn't seen the city from that angle before. It was coming on after dusk and there was a sunset afterglow in the clouds. The LA lights were sprawled out beneath the plane like a crazy glitter rug. Breathtaking and made my heart swell.
Most memorable trip?
There are three that I treasure... Paris with the rest of stellar*, getting the taxi driver to drive around and around the Arc de Triomphe and eating mille feuille; the Galapagos with the husband walking through the amazing, unique wildlife; and Rincon Del Socorro in Argentina's Ibera wetlands, feeling small under the biggest expanse of night sky I have ever seen.
Boh Runga has recently launched her new jewellery range for the New Zealand Mint, "Weapons of Mass Devotion" see nzmintjewelry.com for stockists.