Auckland's farmers' markets are booming, but don't forget the city's traditional markets where supply and demand for bling and bric-a-brac, not to mention home-cooked ethnic food, are as strong as ever. Julie Harries and Catherine Smith pick their favourites.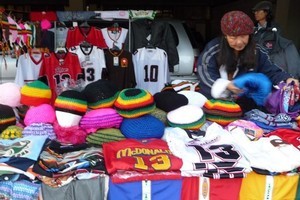 Avondale Market
Ash St, Sundays, 7am-noon
Go west to find the special atmosphere at Avondale from 6am on Sundays. The carpark attendants will take your $3 parking fee while the stallholders are setting up.
You can hunt out a bargain in the dim first light of the morning, while mist rises over the racecourse and the varied languages of the market's multi-racial stallholders and clientele blend.
Fresh fruit and vegetables are put out for display, poles and awnings are hurriedly put together, and sellers devour their breakfast before the main crowds arrive.
This is a big market full of surprises, and interesting characters. Look out for one of the most well-known: Tuhoe Isaac. Previously in the Mongrel Mob for 17 years; he sells his book True Red while speaking softly to those passing by about his past and his new future.
Along the rows of stalls you can haggle over prices for anything from a flashing sushi sign to handmade Pasifika jewellery and model Ferraris. And there's plenty of bling.
Don't leave without finding the Island Foods caravan and its steaming Island Banana Pancakes. The caravan might look like an old shack but this is the best breakfast in the west. Besides, after getting up this early, you deserve it.
Parnell Farmers' Market
Jubilee Building carpark, 545 Parnell Rd, Saturdays, 8am-noon.
Small but perfectly formed, the Parnell Farmers' market has an increasing number of fresh fruit and vege stands, as well as flowers and goodies to eat. This is the sort of place where you shop first, then plan the meals for the week around what you've found.
Cheese lovers always head to Colchis Cheese for traditional Georgian cheeses such as sulguni (a low-fat soft mozzarella-type) or inguli (a porous cheese that can be lightly fried like haloumi for fresh salads or pasta). Dave Barley's NZ Cheeseman has artisan cheeses from all over the country and also has a small goods selection.
Grab some hand-made pasta and fresh tomato sauce from La Bottega Della Pasta and that's one dinner sorted.
Happy chickens and eggs can be picked up in one stop, while this weekend Amanda Hellier at The Farm Gate is taking orders for suckling pigs for Christmas.
Eureka Farms will have crunchy green peppers, Lebanese cucumbers and big glossy purple eggplants in at the end of month, and then it's a race for the first field-grown strawberries and freshly dug new potatoes. And we've solved a few gift problems with the mushroom-growing kits.
Bakery goods have always been a specialty at the Parnell Markets. Stefan from the Austrian Baker is there only on the third Saturday of the month, but his fluffy white wine raspberry meringues are a treat worth waiting for. And Vicki McCormick has brought her Cake Concepts across the bridge (flour-free chocolate slice and orange cake, as well as vegan carrot cake) and we have friends who swear the Miss Lily pies and PureGrace cornish pasties are the best in town.
At the other end of Parnell, the more commercial La Cigale has the biggest vege stall in town with spray-free produce. With the bakery going full tilt, queues at the coffee machine, and French cheeses from the La Cigale Fromagerie this is a great way to spend a weekend morning. Open Saturdays 8am-1.30pm and Sundays 9am-1.30pm, at 69 St Georges Bay Rd.
Mangere TownCentre Market
Mascot Ave, Saturdays, 6am-2pm
In South Auckland the Mangere Market is not well signposted as everyone from the area already knows where it is - just check your map before you go. Free parking is plentiful as it's located in the middle of the Mangere Shopping Centre.
This market is true to both the bling and tat category. There is fresh produce as well as clothes and a selection of pots, pans and everything in between.
Here you will find amazing Pasifika items ranging from fishing nets for boats to the traditional ma'ulu'ulu Tongan dance waistbands, made of thousands of tiny glass beads. Rai-Sil Designs make beautiful Pacific Island clothes for ladies, while Pioneer Sports design their own T-shirts patterned with Maori artwork and have lots of great designs ready in preparation for the Rugby World Cup next year.
Otara Market
Otara Rd, Saturdays, 6am-noon
With 250 stalls and around 5000 visitors each Saturday, this is New Zealand's largest street market and the biggest Polynesian market in the world. Pacific Island, Maori, Asian and Pakeha stallholders create a uniquely New Zealand multicultural experience. Pacific Island elders sell traditional tapa cloth and tivaevae (quilts) next to the younger generation selling streetwear.
Nearby, Indian and Chinese food stalls compete with stands selling coconut and pineapple buns and hot rewena bread. Pause your browsing to watch a Pacific Island volleyball competition, a choir singing Hallelujah, or Maori teens beat-boxing and rapping. Whether you're after fresh veges, unique jewellery or Pacific crafts, the Otara Market is a bargain-lover's dream.

Clevedon Village Farmers' Market
Clevedon Showground, Monument Rd, Sundays, 8.30am-noon (Not in operation Clevedon A&P Show day, November 14)
Even driving out to the Clevedon Markets makes you feel in touch with your inner country bumpkin. Vendors have endearing names such as Running Brook Seeds (heritage seeds presented in vintage suitcases with delicate hand-drawn labels), Soggy Bottom Holdings (rare breed free-range meats), Piako Pete's (smoked and wet fish) and South Hill Farm (heritage tomatoes and vegetables). The patient ponies hauling children around and mossy wooden benches under the trees only add to the bucolic air.
There are queues for the buffalo mozzarella from Clevedon Valley Cheese, crusty breads or bagels from Wild Wheat or Blackwood's and Hungarian Twisters' kurtos kalacs - traditional Hungarian pastries.
You'll be inspired to buy those vege plants and seeds to start your own little slice of heaven back in town, meantime you can pick up the baking and chutneys and pretend this is all from your own hands.
Matakana Village Market
Matakana Rd, Saturdays, 8am-1pm, Wednesday evenings in summer
The summertime crowds that throng the Matakana Market in their SUVs are almost as interesting a crowd as the producers they loyally support. While not officially part of the national Farmers' Market movement (that requires 80 per cent or more certified local stall holders from a defined region) the Matakana Market has stall holders who are all local cooks, growers, bee-keepers or farmers and won Outstanding Local Supplier in last month's Rodney Manaakitanga tourism awards.
Make sure to arrive well before 8am when the parking is not quite so busy, grab a caffeine hit at Lindesay Smith's Matakana Coffee Roasters (partner Angela also had the local Black Dog cafe) and then amble about finding breakfast: spicy Jamaican porridge at one place, waffles, banana and bacon at another, or something more substantially brunchy at the Love food stall. In the tiny gaps left you can cram in spicy churros dipped in chocolate, or an Italian pastry from Silvana's.
Then armed with a charming market basket, you can start the serious shopping, stock up on meals for the week - smoked small goods, fish and meat, eggs, fresh produce, honey, local buffalo cheeses and olive oils. There are enough hand-made goodies to stock up the pantry too, with sauces and dips from Mighty Mushrooms, pates, chutneys and sauces.
Finish off with a tub of the most unusual icecream we've tasted - a New York-style Salted Butter Caramel, made with buffalo milk. Sinful, sweet, salty.
This is the market that calls for a brisk afternoon walk to burn off calories before making dinner
Howick Market
Picton St, Saturdays, 8.30am-12.30pm
Gosh, they're posh in Howick. Small and smart, there's no tat to be seen at the Howick Market, which can be found right in the centre of the village.
Local cafes blend into the market and the stallholders are talkative and friendly. Watch Elena Ikiua weave flax to make her baskets or get a few knitting lessons from the lady who produces babies' booties.
Sarah C Design and Birdie Num Nums offer colourful outdoor art and postboxes for your garden, while Tony of Dunsmuir Crafts makes cutting boards and wooden boxes for eggs, sugar and vegetables. There's also a range of gorgeous food - special mention goes to Vaniye for a lemon meringue tart you'd go a long way to beat.
Tips for market shopping
* Wear comfortable shoes, preferably slip-ons. You'll be doing a lot of walking through some busy spaces, sometimes on uneven surfaces, and if you're trying on jeans or longs you don't want to be held up tying laces.
* Clothing that can be easily pulled off and on will make trying on all those tops and skirts even more pleasurable. And because many clothing stalls' "changing rooms" are simply curtained off cubby holes, a demure slip might protect your modesty.
* Take a big bag (you always end up buying more than you planned) with pockets for easy access to your wallet and phone.
* Take plenty of cash in small notes and coins as many stalls don't have Eftpos and they can quickly run out of change.
* If the weather looks dodgy, wear a hoodie or raincoat - you may not have room to wield an umbrella.
Worth waiting a month for ...
Birkenhead Market
Highbury House, 110 Hinemoa St, third Saturday of the month, 9am-1pm.
Sometimes goof things come in small packages, and every stall at this compact little market has something to tempt you. There are flavoured cooling oils from Egypt in beautiful glass bottles, pretty candles and jewellery, delicious fudge and hummus and a range of other crafts.
Titirangi Village Market
Titirangi War Memorial Hall, last Sunday of the month, 10am-2pm.
This suburb's artistic community gets together among 130 stalls of crafts, produce, good food and organic coffee. Live music from some of Auckland's best folk musicians creates an atmosphere worth lingering in.
The generous hall enables this indoor-outdoor market to open rain or shine.