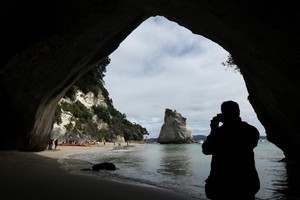 September arrivals for British visitors were the lowest in a decade, Statistics NZ figures show.
And the 8600 UK visitors who arrived in New Zealand last month was an almost 19 per cent decrease on the number arriving during September 2009.
Tourism Auckland chief executive Graeme Osborne was not surprised by the statistics yesterday, saying: "The UK market's been pretty soft for a fair few months."
The downturn in British visitor numbers has had a big impact on the tourism industry as the UK was New Zealand's second largest inbound tourist market after Australia, he said.
Osborne said continuing sluggish economic conditions in Britain were putting potential travellers off taking long haul trips.
The British pound's exchange rate with the kiwi dollar was also less favourable than in the past, he said, which stopped some people from travelling to this country.
Osborne said it was possible that some Brits were deferring their travel until next year's Rugby World Cup.
But while UK tourist numbers have taken a dive, Osborne said increasing arrival numbers from Australia and Asia were helping to fill the gap.
The latest Statistics NZ figures show South Korean, Chinese and Australian visitor arrivals each increased by more than 1000 on the previous September.
The total number of visitor arrivals was 174,200, 1 per cent higher than September last year.
Osborne said the fact Continental Airlines would commence non-stop flights from Houston to Auckland in November 2011 was a boon for the local industry.
US visitor arrivals were down by 380 last month when compared with September 2009 at 9658.
In terms of New Zealanders heading offshore for short-term trips, 210,000 departed last month - up 9 per cent on September 2009.
"Resident departures reached a new high for a September month, surpassing the previous high of 208,500, which was recorded in September 2007 before the global economic downturn," said Kimberly Cullen of Statistics NZ.
This week travel agencies contacted by the Business Herald said more New Zealanders were holidaying in long-haul destinations this year because of favourable exchange rates.