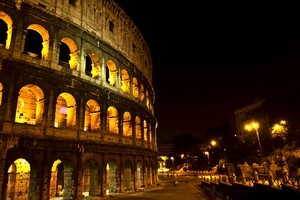 As teachers, my husband and I have time off work in December-January so we are heading to visit relatives in Manchester. We would like to spend Christmas with the family but also see a few places such as Paris and Rome although we are not sure of the best places to visit in winter? Should we use the trains, how hard is it to find affordable accommodation and how early should we book?
- Rebekah
Lonely Planet's Asia-Pacific Travel Editor Shawn Low writes:
Europe is expensive ... but with judicious research and booking in advance (that means right about now), you'll be able to see quite a fair few countries with a modest budget. As you haven't specified what sort of things you like to see and do, it's a challenge to recommend an itinerary as Europe has so much to offer.
If you only plan to hit the big cities (Paris, Rome, Berlin etc), you could book flights on budget carriers such as Ryanair. There are more than 100 airlines offering cheap tickets, especially if you book in advance.
There's plenty of accommodation in Europe, from mid-range hotels to B&Bs. Search on the internet.
If you want to take the train, you can get a Eurail pass. The common passes allow 10-15 days of travel within a one to three month period although Eurail doesn't cover Britain. If you're visiting a variety of destinations, your trip might not be entirely covered by a Eurail pass, so check if you want to buy it. You have to buy Eurail passes before getting to Europe.
You could go skiing or hiking in the Swiss alps, go shopping in Milan, check out the buzz in Amsterdam, get your culture and gallery fix in Paris, and check out the nightlife in Berlin. Greece will be warmer than the other parts of Europe. The hardest part is deciding where to go.
New England holiday
We will be travelling to New England, with our four-month-old baby, for a wedding at the Harkness Memorial State Park. We have booked return tickets Auckland-Boston (stopping off in San Francisco) and are planning on hiring a car for the duration. We are going for two weeks and have a week to spare once the family stuff is over. We need to make our way back to Boston to fly out and we were interested in driving back up the coast through Rhode Island and Cape Cod, etc. Could you recommend an itinerary?
- Laura McLennan
Lonely Planet's Asia-Pacific Travel Editor Shawn Low writes:
The great news is that New England is small and manageable - you could drive across the state in one very long day if you really wanted to. In your case, you're travelling with an infant, so we'd recommend containing your trip to the lower half of the state and finishing up in Boston.
Here's a recommended itinerary:
From Connecticut, head east towards Rhode Island's Newport. In the 1890s, Newport was the place for rich New Yorkers to summer. Opulent seaside mansions sprang up - these summer mansions are still a key attraction of the area, along with the legendary jazz festival and yachting activities. You can also visit Block Island, 19km off the coast of Rhode Island. It's an unspoilt island filled with beaches and miles of hiking and biking trails.
Continue your journey north towards Cape Cod, Martha's Vineyard and Nantucket. With your own car, you can either move across islands via ferry (it gets really expensive) or base yourself centrally and take ferries for day trips.
Visit Sandwich, the cape's oldest village. Drive along the Cape Cod National Seashore for stunning views. Tiny Nantucket is a virtual museum of historic homes and churches. Of course, visiting Martha's Vineyard is a no-brainer.
Sample the clam chowder when you can.
* This week's winning question is from Laura McLennan who receives a copy of Lonely Planet's San Francisco City Guide ($49.99)
Win a Lonely Planet guide book
Get the information you need to make your big trip a success. Email your travel questions to travel.info@lonelyplanet.com and they'll be answered by Lonely Planet's experts. In addition the best question each week will earn a Lonely Planet guide book. To give yourself a chance to win, add your postal address and the guide book you'd like to receive. You can find out about Lonely Planet books at LonelyPlanet.com. Not all questions are necessarily answered and Lonely Planet cannot correspond directly with readers, or give advice outside the column.