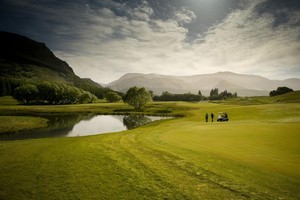 As you drive up the long tree-lined road into Millbrook Resort, you get the eerie sensation that you're leaving the world behind you.
After an epic drive down the South Island's West Coast in a rattling rental car we're in need of a little luxury and by the time we've reached the end of that driveway the grime and hubbub of the road already seem a world away. Millbrook is big, occupying some 200ha tucked at the foot of the mountains between Arrowtown and Lake Hayes, which means it never feels rowdy or crowded.
Millbrook is probably first and foremost known as a golf resort and its elegant fairways (which surely have some of the most spectacular scenic backdrops of any golf course in the world) are always dotted with keen golfers, whatever the season. Novices can have lessons, and hit the driving range to practise.
As I am absolutely allergic to golf, however, I will have to find other amusements. Luckily there are plenty.
First, I hit the network of walking trails that criss-cross the resort.
It's a great way to get a feel for the layout of this place with its mix of villas and suites - and owner-occupied houses - with a mix of new buildings and those that were part of the original farm on which Millbrook was developed.
The trails are open to the public and you'll bump into a few people walking dogs and children, or just themselves, but for the most part you're pretty much wandering on your own. Be careful not to walk into trees while gazing at the spectacular, snow-capped scenery.
After all that effort I pop to the spa for a soothing massage. Keener guests hit the gym and indoor pool, possibly to prepare themselves for dinner in one of the resort's three restaurants.
If you want to keep it relaxed, especially if you have the kids with you, head to Hole in One where they serve a range of casual meals, including fantastic pizzas, which you can also have delivered to your room or villa.
It's a great place to relax over a drink after a hard day chasing that wretched ball around the golf course.
Sala Sala has a Japanese menu, which on the night we were there seemed to be proving extremely popular with not just resort guests but visitors from all over Central Otago; and then there's the Millhouse.
Housed in one of the original farm buildings, this is the resort's fine-dining restaurant and it is very fine indeed. Knowledgeable staff serve delicious meals and advise on wines, as we're gently warmed by the open fire.
The next day, soaking in one of the three outdoor hot pools after a fun but gruelling day skiing at Coronet Peak, about 10 minutes up the road, the rest of the world doesn't so much seem far away as vanished entirely.
IF YOU GO
* Visit Arrowtown. This famously quaint miners' town is a couple of minutes' drive from the resort (Millbrook runs a free bus on request) but it is worth doing it on foot. It will take you about 20 minutes either along the main road or the more picturesque riverside walk. The back road will also take you past the fascinating Chinese Miners Village on the edge of town where you can see preserved living quarters which date back to the gold rush. In town, there's a host of shops selling souvenirs, homeware and warm outdoor clothing. Kids will want to hit the Remarkable Sweet Shop while history buffs can find out more about the town's past in the post office museum.
* Visit Queenstown. The bigger brasher delights of Queenstown are about a 20-minute drive from Millbrook and the resort runs a free shuttle.
Where to eat
Any self respecting fine diner cannot visit Arrowtown without a meal at chef Peter Gawron's stunning Saffron. In busy seasons, make sure you book, which you can do at www.saffronrestaurant.co.nz
Millbrook and Arrowtown are of course handy to a large number of wineries while headed toward Cromwell. For wine tasting, try Peregrine or Chard Farm, and for food, too, head for Gibbston Valley Wines or Amisfield.