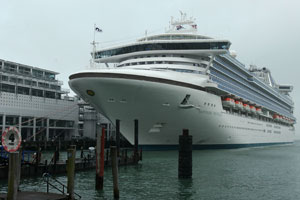 What's expected to be a bumper cruise industry season begins in Auckland tomorrow with the arrival of the 116,000 tonne Sapphire Princess.
Australasian operator Carnival Australia said that during the next six months, 14 ships from its cruise lines' fleets would make 239 calls at nine ports and carry more than 82,000 passengers - a 35 per cent rise on the previous season.
A report prepared for the Ministry of Economic Development, Cruise New Zealand and Tourism New Zealand last month showed passenger numbers were expected to grow dramatically during the next two years from about 109,951 in 2009/10 to 138,200 in 2010/11 and then 199,900 during the 2011/12 season.
The cruise industry was forecast to inject $223 million into the economy during 2010/11, which was expected to rise to $346 million during the 2011/12 season.
Carnival Australia represented P&O Cruises, Cunard Line, Princess Cruises and P&O Cruises UK in New Zealand.
Carnival Australia senior vice president Jenny Lourey said ports around New Zealand were set to benefit from the bumper season.
"The heightened activity is clear evidence of New Zealand's growing popularity as an international cruise destination, as well as New Zealanders' increasing interest in cruise holidays," Lourey said.
"Each ship visit generates around $500,000 in crew and passenger spending, port fees and providering.
"Meanwhile a turnaround call, where new passengers embark, generates up to $1 million, so there's no question about the economic value that flows from cruising."
Carnival said 13 ship turnarounds were scheduled for Auckland during the cruise season.
Auckland would be the busiest port with 43 visits by 14 ships, while season highlights included the launch in Auckland in December of P&O Cruises' superliner Pacific Pearl and the maiden visit of Cunard's Queen Elizabeth in February, the company said.
"Over the last few cruise seasons, New Zealand has welcomed more and more ships to its shores and this coming summer will be no exception," Lourey said.
Tourism Auckland chief executive Graeme Osborne said the cruise industry was a strongly growing sector in tourism and a standout performer.
Auckland was the primary gateway for the cruise sector into New Zealand, and research suggested that with every passenger change people arrived three days before and in general most stayed three nights before leaving the country, Osborne said.
"The real benefit of cruise for Auckland is when there is a passenger exchange that occurs and that's the key argument for the development of an improved or an international quality cruise ship terminal in Auckland because it's that business that we're after, not just the passenger numbers."
A cruise ship terminal and a national convention centre were key items on the shopping list for tourism infrastructure in Auckland, he said.
"I think the business case has been proven and if Auckland is going to be globally competitive going forward, then we have to have world-class infrastructure to make the most of the opportunities in those two key sectors."
The significance of the cruise sector was too big to ignore, Osborne said.
"It's looming upon us as an opportunity that if we don't seize, then it's going to go elsewhere."
The Super City would deliver much more cohesive and unified thinking: "Instead of making a business case to seven or eight local government entities, you make the business case now to one."