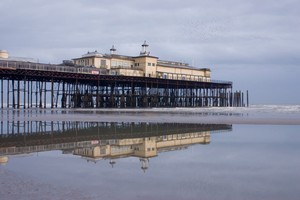 Since it opened on Britain's first ever bank holiday in 1872, Hastings Pier has hosted everyone from perambulating Victorian holidaymakers to the Rolling Stones, and survived fires, storms and battles between mods and rockers. But yesterday the historic landmark was a smouldering skeleton after a fire ripped through its once glitzy ballroom.
A banner proclaiming "You can save me", placed there by campaigners who had hoped to restore the pier, added poignancy to scene of blackened wreckage and dismayed onlookers.
Last night Sussex police said two men, aged 18 and 19, both from nearby St Leonards, were arrested on the seafront shortly after the fire broke out and were being questioned.
Designed by Eugenius Birch, the 910ft (277.4m) long structure was opened in the summer of 1872, when the Earl of Granville called the structure "a peerless pier - a pier without a peer".
It served as a promenade for Victorian holidaymakers who flocked to its wooden deck to take the air or to be entertained under the dome of its grand ballroom.
Its design was inspired by the West Pier at Brighton, which suffered a similarly fiery fate in 2003. It later offered slot machines and and funfair rides, while the ballroom became a popular venue for acts including The Who, Suzi Quatro and The Hollies.
Simon Rose, spokesman for East Sussex Fire and Rescue Service, which was alerted around 1am yesterday, said: " At the moment about 95 per cent of the structure has been destroyed. It's quite significant.
"It's a very historic building and landmark for Hastings. The priority for the firefighters is to preserve as much of the structure as they can to see if something can be done with it in the future," Mr Rose added.
Dale Turner, who runs the Seaspray bed and breakfast opposite the pier, said he and his wife Jo heard a series of four loud bangs just after 1.15am.
"I did not see anything in the night as we hear a lot of noises - my wife just assumed the explosions were the lifeboats going out to sea," said the 55-year-old.
"The pier had been allowed to fall into ruin and now we may never get it back."
The pier closed in 2006 after fears it would collapse but campaigners had hoped to raise money to restore it.
It was thought £8m (NZ$17m) would be required for the first phase.
In July this year Hastings Borough Council agreed to go ahead with the compulsory purchase of the pier from its absent owners, a Panamanian-registered company called Ravenclaw.
"It was the heart of the town. I'm totally gutted," said a local, Tim Hall, 45.
"I've lived here all my life and used to go on the penny slot machines on there when I was a kid. I was really looking forward to it reopening."
- INDEPENDENT