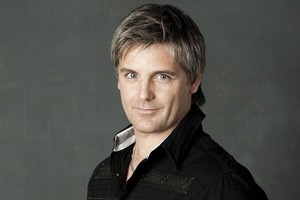 Do you travel light or heavy?
I've managed to travel lighter as I've gotten older. I even got it under 12kg for a trip to Sri Lanka.
Cattle or first class?
I can only dream of turning left when I board a plane.
I can't travel without ...
My passport obviously. As well as my iPhone. Staying in touch with home is paramount.
What's always in your hand luggage?
Phone, charger and pen. I can't take that look hosties give you when you ask to borrow theirs... mind you, I can't blame them. I wonder how many get given back?
Are you a planner or last-minute packer?
Absolute last minute, but I do mentally pack over the previous 24 hours.
What's the best thing you've brought back from a trip?
I was a travel agent for seven years, so I brought back a huge array of souvenirs. However, I think my favourite thing in recent times was the DVD of Nerida and I renewing our vows after four mojitos at midnight in Graceland Chapel, Las Vegas by Elvis.
To us it had as much meaning (if not more) than the actual wedding day itself!
Favourite or most exciting airport to land in?
Heathrow. There's such an excitement about going to London.
Best packing tip?
Undies and socks into shoes, roll T-shirts - they're going to need an iron anyway so don't be pedantic.
Most memorable trip?
My trip to Sri Lanka with Intrepid Journeys was incredible. As a travel agent you were always taken to the best hotels and shown what the local tourist authority wanted you to see. My time in Sri Lanka was the total opposite and yet the best and most informative time I have had on any trip. I would go back in a heartbeat, and of course I'm a sucker for Vegas (without kids of course).
What do you do while on the plane?
I always watch a movie, plus I channel surf the comedy sections. And I'm pretty good at Bejeweled.
Outrageous Fortune's Shane Cortese is leading the Variety Cycle Vietnam trip in April 2011. Visit worldexpeditions.com or phone 0800 350 354.