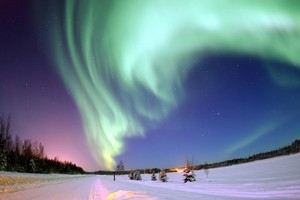 I am travelling to the UK and Europe and have always wanted to see the northern lights. Which is the best month to see them and which country or area has the best view?
- A Jones
Lonely Planet's European travel editor Tom Hall writes:
For those of you wondering what the Northern Lights are, here's a quick primer. The spectacular night-time light show, also known as the Aurora Borealis, is a naturally occurring phenomenon caused by charged particles colliding in the upper atmosphere.
The effect can happen at any time of year when there are high levels of geomagnetic activity but in order to see them, a few circumstances need to be in place.
As well as being somewhere the lights are on show, you need to be lucky and have a clear night sky, well away from man-made light. And, obviously, it has to be dark.
It stays light most of the time in northern climes between May and August, so visit between December and March.
This is low season in Scandinavia because of the long hours of darkness and often bitterly cold weather. How cold?
I was in Helsinki, Finland, in February and it was -27C. My nostrils froze when I tried to go for a run around the frozen-solid harbour.
Good lights-spotting destinations are northern Norway, Finland and Sweden, as well as anywhere in Iceland outside the capital, Reykjavik.
Some cities offer northern lights spotting trips which you can book when you're there, but there's really no need.
Take a cottage for a few days far from human civilisation, get cosy and watch the skies at night.
Not easy and not cheap, but then none of the world's most astonishing sights tend to come without a little effort.
* This week's winning question is from A. Jones, who will receive a copy of Lonely Planet Iceland ($59.99).
Right side of Spanish law
My 22-year-old daughter and her boyfriend are travelling to Spain with the intention of living there for an undecided period of time. After that, they hope to travel to South America. They have bought one-way tickets to Barcelona and will be travelling on New Zealand passports. Will they be allowed to enter the country without a ticket for onward or return travel? They intend to apply for student visas and enrol in a (cheap) Spanish-language course in Barcelona, while at the same time organising au-pair jobs there. This all sounds pretty dodgy to me. We understand that the NZ/Spain reciprocal working holiday visa scheme for young people has not yet come into force but up-to-date details are hard to find. What would be the best option, in terms of tickets and visas, for my daughter and her boyfriend to be able to live and work in Spain legally?
- Pam Hutton
Lonely Planet's Asia-Pacific travel editor Shawn Low writes:
First of all, do note that it is illegal to work in Spain without a proper visa. No, a student visa is not the same as a work visa.
While that hasn't stopped people from finding a job, you will get deported if you are discovered. Not a good idea.
For visits up to 90 days, you won't need a visa to enter Spain. If your daughter and her boyfriend want to stay longer, they will need to apply for a student or work visa prior to leaving. We would advise that you follow official visa application guidelines.
Getting visas is a potential minefield of tick boxes and requirements. For student visas, the host country will usually require proof of financial means. This could be a notarised letter written by yourself declaring financial support for your child's study period. Your daughter might also be required to show bank account statements and she will probably also have to get health insurance for the period of the visa.
As the visa laws change fairly often, we would advise that you contact the Embassy of Spain in Wellington to get exact details.
You can also inquire about the reciprocal working holiday visa in Spain. This is limited to 200 people per year. The embassy details are:
Embassy of Spain, Level 11, BNZ Trust House Building, 50 Manners St, Wellington 6142. Telephone (04) 802 5665 or email emb.wellington@maec.es.
Win a Lonely Planet guide book
Get the information you need to make your big trip a success. Email your travel questions to travel.info@lonelyplanet.com and they'll be answered by Lonely Planet's experts. In addition the best question each week will earn a Lonely Planet guide book. To give yourself a chance to win, add your postal address and the guide book you'd like to receive. You can find out about Lonely Planet books at LonelyPlanet.com. Not all questions are necessarily answered and Lonely Planet cannot correspond directly with readers, or give advice outside the column.