You don't have to be rich or famous to enjoy the lifestyle on offer at Omaha. And the beach settlement just north of Auckland will please all the family, writes Bronwyn Sell.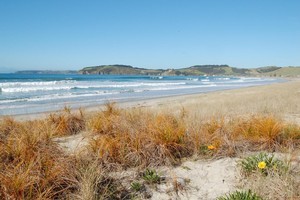 A New Zealand Herald writer called Omaha a "playground for the rich and famous", which was a bit over the top for a quiet beach settlement just north of Auckland. True, he was talking more John Key and Trelise Cooper than George Clooney and Brad Pitt, but even so I wouldn't advise you to pack the autograph book.
Do, however, pack the kids. When our coffee group was looking for a spot for a winter long weekend, Omaha ticked all the boxes. Ten years ago we probably wouldn't have looked twice at it: not remote enough, not adventurous enough and not nearly enough bars.
But these days holidays come with a vastly different set of criteria: Within an easy drive of Auckland? Tick. Affordable? Tick. A surf break for the dads, good cafes and a market in striking distance for the mums, a beach, playgrounds and even a petting zoo for the kids? Tick, tick, tick.
We're a bit of a cliche come to life, our coffee group. That was us at Omaha: seven couples, eight kids (and another four in utero) and a litter of toys, kayaks, surfboards and trikes.
We were the mums sitting around drinking tea or wine (depending on our reproductive state) while ignoring all but the most piercing shrieks from a formidable tumble of babies and toddlers.
Those were our kids taking off on trikes on the snaking paths through the sand dunes to the beach, where they whacked each other liberally with plastic spades and squealed over toe-deep water while the dads "supervised".
That was one of our dads at Leigh Fish & Chips trying to remember if it was 24 fish and 12 chips, or 24 chips and 12 fish. And that was another of our dads cycling up to the local dairy for a round of ice-creams.
We could have been any group of families on any bach holiday in the past half-century or so - except that we weren't slumming it. Our two rented holiday homes had nine bedrooms and six bathrooms between them. The kitchens were kitted out better than those in our own homes and there were large-screen tellies, push-button automatic blinds and sea views.
That's the beauty of Omaha in the off-season. You can take your pick of dozens of homes for heavily discounted prices - from original 1970s baches in the older northern half to nearly new mansions in the south. Granted, the south is a bit spooky outside busy summer weekends. Street after street of new and mostly deserted homes, empty roads, empty playgrounds. It's as if you've crept on to a modern Stepford Wives film set after hours. But it's also a fascinating peek into the future of baching.
There are no quaint collections of shacks and caravans, but neither are there plaster monstrosities or ticky-tacky houses popped out of moulds.
This is the modern, upmarket (and expensive) reinvention of the Kiwi beach settlement: weatherboards, glass and corrugated iron in muted echoes of the colours of nature.
And for less than $200 per family for three nights' accommodation, we get it all to ourselves. Call it lifestyles of the middle-incomed and not remotely famous.
Traveller's tips
Distance from Auckland's CBD: 75km
On the way, don't miss: Puhoi Cottage. Quaint and quiet, it's New Zealand's oldest tearoom and famous for its Devonshire teas. 1.3km from the Puhoi turn-off on State Highway 1. 50 Ahuroa Rd, Puhoi, (09) 422 0604.
Where to stay: There are loads of holiday homes on offer throughout winter and spring, from $95 a night for a traditional bach to $400 a night for a mansion (about half the price of peak season).
On the web: holidayhouses.co.nz has a good selection, or phone Maureen at Omaha Beach Holiday Rentals, (09) 422 7559 or 021 104 4960.